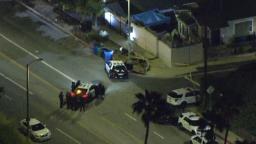 CNN
 — 

A suspect has died after a confrontation that left three Los Angeles Police Department officers wounded Wednesday night, officials said.
Police were called to the Lincoln Heights neighborhood of Los Angeles earlier in the day for an investigation into a parolee at large and came across the person who "refused to comply to the commands," LAPD Assistant Chief Alfred Labrada said in a news conference.
"At one point during the search, the suspect exited and fired at the officers, wounding three officers," Labrada said.
During the confrontation with the suspect, at least one officer returned fire, according to Labrada, but how many officers opened fire and the number of shots fired remain under investigation.
The officers – described as senior K-9 officers – were all taken to an area hospital, where they were listed in stable condition, according to police.
Authorities did not name the suspect or provide information on how that person died.
A city-wide tactical alert was issued Wednesday evening as the standoff unfolded, with aerial footage from the scene showing a major police response in the Lincoln Heights neighborhood.
"Every day, the men and women of the Los Angeles Police Department put themselves in harm's way," Los Angeles Mayor Karen Bass said at the news conference. "Tonight is a reminder that the danger is very real. I'm relieved and grateful that these three brave officers are in stable condition and are able to have a conversation – with two of them, when I checked in on them just now."
Source link