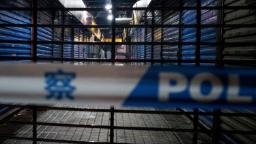 Here's what you need to know to Get Up to Speed and On with Your Day.
(You can get "5 Things You Need to Know Today" delivered to your inbox daily.
Sign up here
.)
1. Covid-19
New studies conclude that animals sold at a seafood market in Wuhan, China, are most likely
what started the Covid-19 pandemic
. In June, the World Health Organization recommended that scientists continue to research all possible origins of the
coronavirus
outbreak, including a lab leak. In one of the
new studies published Tuesday
, researchers determined that the earliest Covid-19 cases were centered at the Wuhan market among vendors who sold live animals or people who shopped there.
Another study
said the first animal-to-human transmission probably happened around November 18, 2019, and that an early version of the virus was found only in people who had a direct connection to the Wuhan market. Meanwhile, authorities in Wuhan today
shut down a district
of about 1 million people after detecting four asymptomatic Covid cases. All restaurant dining, entertainment venues, places of worship, and public transportation have been suspended for at least three days as "temporary control measures," the government said.
2. Trump
3. Philippines
4. Abortion
5. Uvalde
BREAKFAST BROWSE
Mega Millions jackpot grows to $1.02 billion after no winner Tuesday
Debris from a huge Chinese booster rocket could fall to Earth next week
This 13-year-old is headed to medical school
Inflation is changing how products are packaged
How much exercise do you need for a longer life?
TODAY'S NUMBER
75%
TODAY'S QUOTE
"After deep consideration, the time felt right to share these items with the world, which for many are symbols of a historical moment, but for me have always remained personal mementos of a life dedicated to science and exploration."
TODAY'S WEATHER
AND FINALLY
Snowboarder chased by bear
Source link