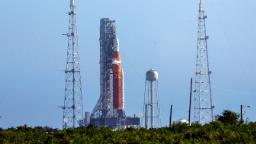 Here's what else you need to know to Start Your Week Smart.
• NASA will not pursue a launch of Artemis I for the remainder of the launch period, which ends on Tuesday, according to an update from the agency Saturday
after a second scrubbed launch attempt
.
• As a prolonged
record-setting heat wave
tightens its grip on the West, millions in California are again being asked to reduce their energy consumption amid worries about a strained power grid.
The week ahead
Monday
Tuesday
Wednesday
Thursday
Saturday
Want to hear more CNN reporting?
Photos of the week
What's happening in entertainment
Party at the House of Mouse
'Cobra Kai'
What's happening in sports
US Open
NFL Kickoff
Quiz time!
Play me off
Rock your way into Monday!
Source link