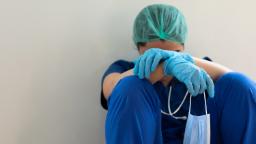 CNN
 — 

About 100,000 registered nurses in the US left the workplace due to the stresses of the Covid-19 pandemic, according to the results of a survey published Thursday by the National Council of State Boards of Nursing.
Another 610,388 registered nurses, who had more than 10 years of experience and an average age of 57, said they planned to leave the workforce by 2027 because of stress, burnout or retirement. The same was true of 189,000 additional nurses with 10 or fewer years of experience and an average age of 36.
The survey found that there were over 5.2 million active registered nurses and 973,788 licensed practical nurses or vocational nurses in the US in 2022. The researchers analyzed data from 29,472 registered and advanced nurses and more than 24,000 licensed practical or vocational nurses across 45 states. More than a quarter of those surveyed said they plan to leave the industry or retire in the next five years, the study says.
About 62% of the nurses surveyed said their workload increased during the pandemic, and 50.8% said they felt emotionally drained at work.
Almost half of nurses said they felt fatigued or burnt-out: 49.7% and 45.1%, respectively. These concerns were seen most in nurses with less than 10 years of experience.
Maryann Alexander, chief officer of nursing regulation at NCSBN and one of the authors of this study, said she is shocked by the findings of the study, especially related to younger nurses.
Soon, the industry will rely on nurses with less than 10 years of experience to act as mentors, managers and leaders in nursing care, Alexander said.
"It will send us into a health care crisis of huge proportions," Alexander said.
She said that while it is common to see young nurses leaving the industry to go back to school and get more education, it is uncommon to see young nurses leaving due to stress and burnout.
"That is a huge cause for concern," Alexander said.
This exhausted tone was a driving factor behind a strike in New York in January, when over 7,000 nurses took to the streets to call attention to staffing shortages and burnout.
"We are sick and tired of the hospital only doing the bare minimum," said Danny Fuentes, a union official who spoke to the crowd during the strike. "Time and time again, we are forced to take unsafe patient loads. We are humans, and we are burnt-out. And we are tired. And the hospital doesn't seem to care. All they see are profits. We don't want to be out here. We would much rather be with our patients. We need a fair contract to protect our patients."
The strike ended when the New York State Nurses Association reached tentative deals with the two hospitals involved, Mount Sinai Health System and Montefiore Health System. The union said the deal would provide enforceable "safe staffing ratios" for all inpatient units at Mount Sinai and Montefiore.
Montefiore agreed to financial penalties for failing to comply with agreed-upon staffing levels in all units.
The researchers on the new survey say their findings pose a threat to the US workforce, especially among younger and less experienced nurses. The National Council of State Boards of Nursing says hospitals and policymakers should be quick to enact solutions and address these challenges.
Source link