CNN
 — 

Despite facing involuntary manslaughter charges connected to the "Rust" set shooting death of a cinematographer, Alec Baldwin intends to finish the movie's production, a source close to the actor told CNN.
Meanwhile, the New Mexico prosecutor who is planning to charge Baldwin is gearing up for a big trial.
First Judicial District Attorney Mary Carmack-Altwies requested $635,000 in "emergency" money "to prosecute such a high-profile case," she wrote to state officials last August.
"I need funding for an attorney, investigator, media contact person, paralegal, expert witnesses, and general trial expenses."
She said the trials of Baldwin and another person working on the movie "Rust" would each "take weeks to a month to complete" and require expert testimony.
And even before any trial could be held, each defendant will have a preliminary hearing to determine if probable cause for trial exists. "These hearings will take weeks to complete and will happen rather quickly once charges are filed," she said.
Carmack-Altwies said Thursday she will charge Baldwin and the film's armorer with involuntary manslaughter, accusing them of failing to perform safety procedures that could have prevented the accident. Baldwin was holding the prop gun that discharged, killing cinematographer Halyna Hutchins on the New Mexico set in October 2021.
Baldwin did not answer reporters' requests for comment on the charges while walking into his Manhattan home on Friday.
Melina Spadone, an attorney for Rust Movie Productions, confirmed to CNN Friday the "Rust" film is "still on track for completion" and will star Baldwin in the lead role.
The film will include "on-set safety supervisors and union crew members and will bar any use of working weapons or any ammunition," Spadone said, adding Joel Souza will continue to direct the film.
Carmack-Altwies requested the extra money in a letter dated August 30. She was granted about half of the amount requested, and is expected to ask the legislature for the remainder.
If the case goes to trial, there are few precedents for a major star being charged in the shooting death of a colleague during production of a movie. The attention would likely be enormous, particularly since the shooting happened away from Hollywood.
In the 1980s, director John Landis and four associates were acquitted of involuntary manslaughter in connection with the deaths of actor Vic Morrow and two children during the filming of "Twilight Zone: The Movie." The trial lasted for 10 months and gained global attention.
Some jurors said they were not dazzled by figures from the film industry since they lived in Los Angeles. Rather, they told The New York Times that prosecutors "had not proved that anyone could have foreseen the crash of the helicopter."
Baldwin has been a major film and TV star for decades, winning Emmys for TV's "30 Rock" and an Oscar nomination for "The Cooler." He also starred in "Working Girl," "Beetlejuice" and "The Hunt for Red October," and on Broadway. In addition, he is known for publicly advocating for liberal political causes.
Prosecutors will have to overcome significant challenges, including not knowing how live rounds got on set and experts' varying opinions about the on-set responsibilities of actors and crew members, said CNN senior legal analyst Elie Honig.
"Remember, this is a criminal case. You need all 12 jurors to find guilt beyond a reasonable doubt. So I'm not saying that there's no chance here, but this is a really difficult case for the prosecution," Honig said.
The charges will be formally filed by the end of the month, Carmack-Altwies told CNN.
The prosecutor said she will not request the arrests of Baldwin and Gutierrez Reed. Instead, they will be summoned to appear in court either in-person or virtually, she said.
Baldwin and Gutierrez Reed will each face two counts of involuntary manslaughter, but each count carries a different level of punishment, Carmack-Altwies said when she announced the charges.
A jury would decide which count would be more appropriate, and if convicted, they will only be sentenced to one count, the prosecutor said.
In either defendant's case, a conviction is punishable by up to 18 months in jail and a $5,000 fine. But one charge carries an additional firearms enhancement – because a gun was involved – and would require a mandatory punishment of five years in jail, the prosecutor said.
Hutchins was killed when a prop gun Baldwin was holding fired a live round of ammunition, striking Hutchins in the chest and hitting Souza, the director, in the shoulder.
Baldwin has maintained that he never pulled the trigger and was not aware the gun contained live rounds. Hannah Gutierrez Reed, the set armorer who loaded the prop gun, says she believed the rounds were dummy ammunition, according to her lawyer.
Prosecutors, however, say both Baldwin and Gutierrez Reed were responsible for checking the safety of the prop.
"Every person that handles a gun has a duty to make sure that if they're going to handle that gun, point it at someone and pull the trigger, that it is not going to fire a projectile and kill someone," Carmack-Altwies told CNN Thursday.
Though a medical examiner determined Hutchins' death was an accident, prosecutors argue the "fast and loose" safety standards on set and lack of caution around firearms props contributed to the fatal shooting.
"There was such a lack of safety and safety standards on that set," Carmack-Altwies told CNN, adding that live rounds were mixed with dummy rounds on set.
"Nobody was checking those or at least they weren't checking them consistently," she said. "And then they somehow got loaded into a gun handed off to Alec Baldwin. He didn't check it. He didn't do any of the things that he was supposed to do to make sure that he was safe or that anyone around him was safe. And then he pointed the gun at Halyna Hutchins and he pulled the trigger."
Baldwin has said he did not pull the trigger before the gun fired.
During FBI testing of the the gun's normal functioning, the weapon could not be fired without pulling the trigger while the firearm was cocked, an FBI forensics report said. Eventually, the gun malfunctioned during testing after internal parts fractured, which caused the gun to go off in the cocked position without pulling the trigger, the report said.
In addition to acting in "Rust," Baldwin was also producing the film. Prosecutors will be charging him in both capacities, Carmack-Altwies explained, saying that as a producer, Baldwin had a responsibility to ensure the set was safe.
Ultimately, the prosecutor said, "just because it's an accident doesn't mean that it's not criminal."
"Our involuntary manslaughter statute covers unintentional killings," she said. "Unintentional that means they didn't mean to do it. They didn't have the intent to kill. But it happened anyway, and it happened because of more than mere negligence… They didn't exercise due caution or circumspection and that's what happened here."
In September, Carmack-Altwies requested additional funding from the state, noting that her office could charge up to four people in costly cases that "look to be too big for just my office to handle." State officials approved more than $300,000 of the $635,000 the prosecutor requested, leaving open the possibility of additional funds at a later time.
Baldwin's attorney Luke Nikas said the actor was "blindsided" by the charges, which Nikas called "a terrible miscarriage of justice."
"Mr. Baldwin had no reason to believe there was a live bullet in the gun – or anywhere on the movie set. He relied on the professionals with whom he worked, who assured him the gun did not have live rounds," Nikas said.
The executive director of the entertainment union SAG-AFTRA called the anticipated charges against Baldwin "wrong and uninformed."
"The charges clearly indicate a lack of understanding about the standards and expectations of how a film set operates," Duncan Crabtree-Ireland told CNN's Laura Coates. "The fact is, actors are not firearms experts. Actors cannot be expected and are not expected to do final safety checks or anything of that nature."
Gutierrez Reed's attorney Jason Bowles said, "We were expecting the charges but they're absolutely wrong as to Hannah – we expect that she will be found not guilty by a jury and she did not commit manslaughter."
Hutchins' family said in a statement Thursday that they support the charges and "fervently hope the justice system works to protect the public and hold accountable those who break the law."
"It is a comfort to the family that, in New Mexico, no one is above the law," the statement said.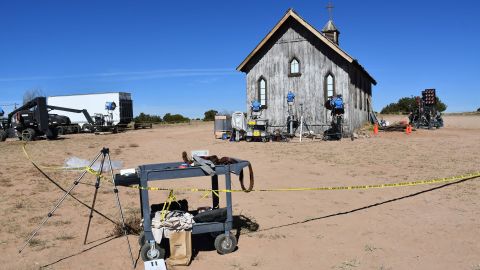 In an interview with CNN in August, Baldwin said he believes the responsibility falls on Gutierrez Reed and assistant director Dave Halls, who handed him the gun.
However, Halls and Gutierrez Reed have repeatedly said they are not at fault and accuse Baldwin of attempting to shuffle off blame for the accident.
Gutierrez Reed maintains she did not know there were live rounds in the ammunition on set and has sued the film's gun and ammunition supplier and its founder, who deny wrongdoing. She claims live rounds of ammunition were mixed into the dummy ammunition purchased from the company.
Halls has signed a plea deal on a charge of negligent use of a deadly weapon, which grants him six months of probation and a suspended sentence, Carmack-Altwies' office said.
Hutchins' family filed a wrongful death lawsuit against Baldwin and others involved in the movie's production, and reached an undisclosed settlement in the suit in October.
As part of the settlement agreement, Hutchins' husband, Matthew Hutchins, was set to be an executive producer on "Rust" when it resumed filming.
Source link