CNN
 — 

Suspected Chinese operatives have used images made by artificial intelligence to mimic American voters online in an attempt to spread disinformation and provoke discussion on divisive political issues as the 2024 US election approaches, Microsoft analysts warned Thursday.
In the last nine months, the operatives have posted striking AI-made images depicting the Statute of Liberty and the Black Lives Matter movement on social media, in a campaign that Microsoft said focuses on "denigrating U.S. political figures and symbols."
The alleged Chinese influence network used a series of accounts on "Western" social media platforms to upload the AI-generated images, according to Microsoft. The images were fake and generated by a computer, but real people, whether wittingly or unwittingly, propagated the images by reposting them on social media, Microsoft said.
Microsoft said the social media accounts were "affiliated" with the Chinese Communist Party.
The growing potential for adversaries to use AI to sow disinformation among US voters is an acute concern for election officials as they prepare for a contentious possible 2024 rematch between President Joe Biden and former president Donald Trump.
The concern is that foreign operatives will amplify an already-ripe domestic information environment. 69% of Republicans and Republican-leaners still say Biden's 2020 win was not legitimate, according to a CNN poll in July.
"We can expect China to continue to hone this technology over time and improve its accuracy, though it remains to be seen how and when it will deploy it at scale," Clint Watts, general manager of Microsoft's Digital Threat Analysis Center, wrote in a blog.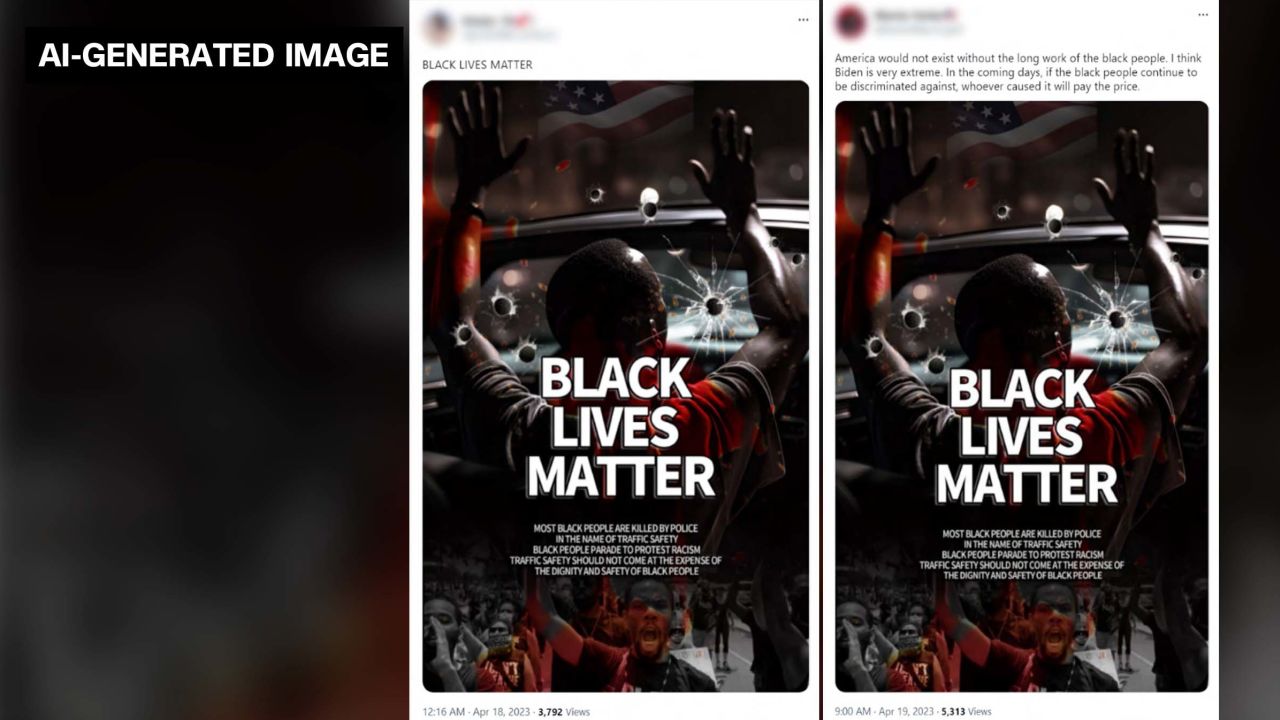 The AI-made images have "drawn higher levels of engagement from authentic social media users" than some previous posts by the network of alleged Chinese accounts, Microsoft said, but the company did not provide specific metrics.
"In recent years, some western media and think tanks have accused China of using artificial intelligence to create fake social media accounts to spread so-called 'pro-China' information," Liu Pengyu, spokesperson for the Chinese Embassy in Washington, DC, said in an email to CNN when asked for comment on the Microsoft report. "Such remarks are full of prejudice and malicious speculation against China, which China firmly opposes."
After the 2016 US presidential election, when Russian operatives used Facebook and Twitter to try to amplify divisions among voters, US officials have warned that China or other foreign powers could adopt that playbook.
Ahead of the 2022 US midterm elections, Russian and Chinese government-affiliated operatives and organizations promoted misinformation about the integrity of American elections that originated in the US, senior FBI officials have said.
More evidence of Chinese influence operations aimed at sowing discord in the US has emerged in recent months.
Pro-Beijing operatives paid a handful of unwitting Americans to protest in the US about racial inequality and a US ban on goods produced in the Chinese region of Xinjiang, researchers from security firm Mandiant said in July.
Meanwhile, Facebook parent company Meta last month said it had taken down the largest known "cross-platform covert influence operation" it had ever seen; thousands of China-based social media accounts that targeted audiences in the US, Taiwan and elsewhere. Meta investigators tied the activity to people "associated with Chinese law enforcement," but said the influence campaign received little engagement from real social media users.
Source link