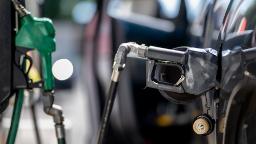 CNN
 — 

A bad hurricane season could cost Americans at the gas pump.
Gas prices climbed to an average of $3.88 a gallon nationally on Thursday, according to AAA. That's a 10-month high and represents a 31-cent increase from just a month ago.
The summertime gas price spike has been driven by a combination of easing recession fears, production cuts by Russia and Saudi Arabia and extreme heat that has knocked offline some refinery activity.
The historic heatwaves could cause even more trouble by potentially setting the stage for powerful hurricanes.
"The major risk," according to analysts at Citigroup, is that global warming and record-high ocean temperatures diminish the El Niño wind shear impacts that prevent Atlantic Ocean storms from entering the Gulf of Mexico.
The Gulf Coast is home to major US refineries and the region is a key hub for energy exports, including liquefied natural gas. That's not to mention vast offshore Gulf of Mexico oil production.
"Two Category 3 or higher hurricanes landing on US shores could massively disrupt supplies for not weeks but months," Citigroup analysts wrote in a client note on Thursday.
In the Pacific Ocean, Hilary strengthened into a hurricane on Thursday and is expected to rapidly turn into a Category 4 storm, according to the National Hurricane Center. However, this hurricane should have limited impact on energy supplies because it's on track to threaten California, not the refinery hub of the US Gulf Coast.
For consumers, the good news is that, outside of the risk of a bad hurricane season, Citi is bearish on oil prices.
The Wall Street bank's baseline forecast is that oil prices will drop in the coming months, a scenario that would cool gas prices. Citi cited "far more robust" oil supplies this year and next than what most anticipate combined with "far softer" demand for energy.
US oil prices are on track to snap a seven-week winning streak. Crude climbed 1.3% to $80.65 a barrel Thursday morning.
However, the current jump in gas prices threatens to undercut some of the progress made on the inflation front and cause even more political problems for a White House especially sensitive to this issue.
President Joe Biden's economic approval numbers were weak even when gas prices were plunging. The surge to 10-month highs won't help.
Drivers in 12 states plus Washington, DC, are already paying an average of $4 or more for gas, including Colorado, Arizona and Illinois, according to AAA. Indiana, Pennsylvania and New York aren't far behind.
"It's something we certainly keep a close eye on," a White House official told CNN earlier this week. "The president is committed to lowering prices at the pump for Americans and maintaining a stable and secure energy supply."
When asked by CNN's Erin Burnett about rising gas prices, Treasury Secretary Janet Yellen on Monday noted that prices are well below their peak from last year.
That's true. At $3.88 a gallon, the national average price for regular gas is $1.14 below the record high of $5.02 in June 2022.
Gas prices are also still cheaper than a year ago — though not by much.
As recently as Memorial Day and July 4th, consumers were saving big on gas prices when measured against the same point last year. But that trend has been stopped in its tracks. Gas prices are now just six cents below this point last summer, according to AAA.
"Energy markets are volatile and gas prices can fluctuate," the White House official told CNN. "Fluctuations like this aren't uncommon in the summer 'driving season' due to higher gasoline demand."
The White House official also acknowledged the role that heatwaves have had on prices.
"This year, extreme heat is also impacting certain refineries, which only highlights the urgency of building a clean energy economy going forward," the official told CNN.
Source link