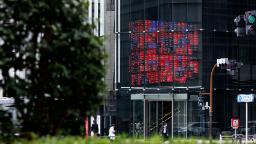 Hong Kong
CNN
 — 

Asia Pacific stocks fell on Monday, even as regulators across the region sought to assure investors that their money was safe in the wake of a bailout for Credit Suisse and coordinated efforts by global central banks to boost liquidity in financial markets.
In Hong Kong, the Hang Seng Index

(HSI) tumbled 2.6% by midday trade. HSBC

(HSBC) led index losses, shedding 6%. Standard Chartered

(SCBFF) shares in the city fell 5%. Both lenders are headquartered in London, but make most of their money in Asia.
Japan's benchmark Nikkei

(N225) index fell 1.1%, while South Korea's Kospi

(KOSPI) was down 0.5%. The S&P/ASX 200 in Australia decreased by 1.3%.
Stephen Innes, managing partner of SPI Asset Management, said traders were on high alert because "the more policymakers do, the more investors expect more bad news to come down the pipe, which creates a horrible negative feedback loop."
It's "almost as if investors are asking themselves, 'What do they know we do not know?'" he told CNN.
HSBC and Standard Chartered were facing greater scrutiny Monday as two global banks that had also "had their share of ups and downs," according to Innes.
For Standard Chartered, recent speculation that the bank was a "takeover target" may be weighing on the stock, he said. Standard Chartered's CEO told CNBC last month that the bank was "absolutely not" for sale.
HSBC, meanwhile, could be subject to investor jitters after buying the UK arm of Silicon Valley Bank, the lender that collapsed earlier this month, Innes said.
But some analysts predicted that markets could pick back up later on Monday if investor nerves settle.
"A relief rally is possible on Monday," ING economists wrote in a report, noting that US stock futures rose on Sunday night following news of Credit Suisse's rescue.
Dow futures, S&P futures and Nasdaq futures were trading flat in Asian trade.
That followed another day of losses on Wall Street on Friday, as investors continued to fret over the health of the global banking sector. The Dow

(INDU) fell 1.2%, and the S&P 500

(SPX) shed 1.1%. The Nasdaq Composite

(COMP) dipped 0.7%.
On Sunday, Switzerland's biggest bank, UBS

(UBS), agreed to buy Credit Suisse

(CS) (CS) in an emergency rescue deal aimed at stemming financial market panic unleashed by the failure of two American banks earlier this month.
UBS is paying 3 billion Swiss francs ($3.25 billion) for Credit Suisse, about 60% less than the amount the bank was worth when markets closed on Friday.
The Swiss National Bank said in a statement that the agreement would "secure financial stability and protect the Swiss economy."
Just hours after the deal was announced, the US Federal Reserve and several other major central banks announced a coordinated effort to boost the flow of US dollars through the global financial system with the aim of keeping credit flowing to households and businesses.
The Credit Suisse shakeup is "the largest" since the global financial crisis of 2008, given its importance to the international financial system, according to Leon Qi, regional head of Asian financials, fintech and healthtech research at Daiwa Capital Markets.
"The UBS-CS deal avoided an abrupt bankruptcy, but the price tag speaks to the complicated issues that CS had," he told CNN.
In addition, some of Credit Suisse's bonds "are likely to be written off," which would mark the largest such writedown "in European financials' history," Qi said.
"These developments have inevitably caused risk-averse sentiment in Asian markets and towards financial stocks."
Still, it's likely that investors will ultimately take into account how Credit Suisse's woes had been building up for years — and how "the global and Asian financial system as a whole is more resilient than it was 15 years ago, given the many regulatory overhauls since then," he added.
"This should cause relatively a short period of pain in the markets," he said.
On Monday, Hong Kong's de facto central bank and securities regulator joined the chorus of central banks in welcoming the announcement from Zurich and sought to reassure the public that business would continue as usual.
"The exposures of the local banking sector to Credit Suisse are insignificant," the Hong Kong Monetary Authority (HKMA) said in a statement, adding that the assets of Credit Suisse's local branch were worth approximately 100 billion Hong Kong dollars ($12.7 billion) or "less than 0.5% of the total assets of the Hong Kong banking sector."
The lender's customers in the city will be able to "continue to access their deposits with the branch and trading services" as normal, the HKMA added. "Their overall exposures to the Hong Kong market are not significant."
In Australia, Christopher Kent, the assistant governor of financial markets at the Reserve Bank of Australia (RBA), also weighed in, noting the recent strain on investors.
"Volatility in Australian financial markets has picked up," he told a conference Monday. "But markets are still functioning and, most importantly, Australian banks are unquestionably strong — the banks' capital and liquidity positions are well above [regulators'] requirements."
Similarly, the Monetary Authority of Singapore (MAS) said Monday that Credit Suisse, which has operated in the city since 1973, would continue serving customers "with no interruptions or restrictions, following the announced takeover."
"Customers of CS will continue to have full access to their accounts," it said in a statement, noting that the Swiss lender primarily catered to private banking and investment banking clients, not retail customers, in the city state.
"The takeover is not expected to have an impact on the stability of Singapore's banking system," it added.
The Philippines, too, moved to assuage fears.
On Friday, the country's central bank declared that "​the Philippine banking system remains safe and sound."
"We have shown our resilience through the pandemic, and we continue to be strong in the face of the ongoing turbulence in the global markets," it said in a statement.
— CNN's Mark Thompson contributed to this report.
Source link