AxeGOD is an Indonesia Free Fire content creator who has captured the attention of the game's community. His incredible prowess and skills on the battlefield have helped him build a considerable fanbase on his YouTube channel. He currently boasts a subscriber count of 260K, alongside a total view count of more than 20.46 million.
In addition to the YouTube statistics, he possesses over 7.1K followers on his Instagram account. Below are details regarding AxeGOD's Free Fire ID, stats, and more.
Disclaimer: As Free Fire is prohibited in India, players from the nation should refrain from playing the game on their devices. However, since the MAX variant wasn't banned, they may still enjoy this version of the game.
---
Exploring AxeGOD's Free Fire ID, guild, rank, and stats
AxeGOD's Free Fire ID is 766588014, and his IGN in the game is "AxeGOD++". He leads the "GOD NATION" guild, whose Guild ID is 60592435.
The player is currently ranked Heroic in BR-Ranked Season 33 and Platinum II in CS-Ranked Season 18. Listed below are his in-game stats:
BR Career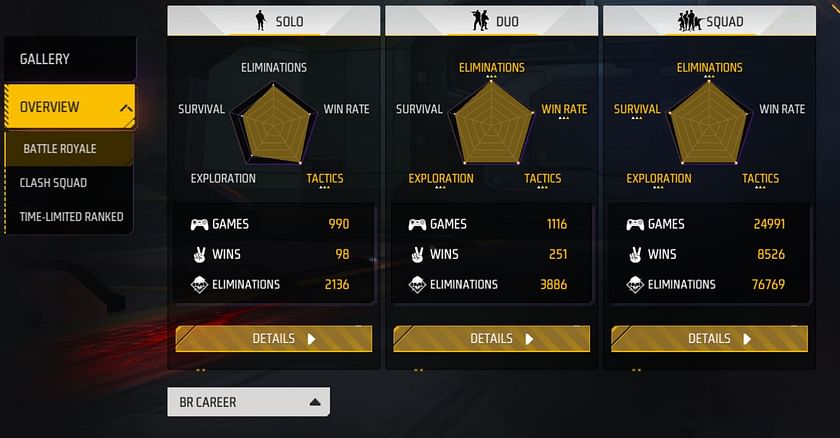 AxeGOD has competed in 990 solo games and has remained unbeaten in 98 matches, giving way to a win rate of 9.89%. He has accumulated 2136 kills, maintaining a K/D ratio of 2.39.
The content creator has featured in 1116 duo matches as well and has registered 251 Booyahs, converting to a win rate of 22.49%. He has 3886 frags and a K/D ratio of 4.49.
He has made 24991 appearances in the squad mode and has 8526 victories, leading to a win rate of 34.11%. With 76769 kills, he has a K/D ratio of 4.66.
BR Ranked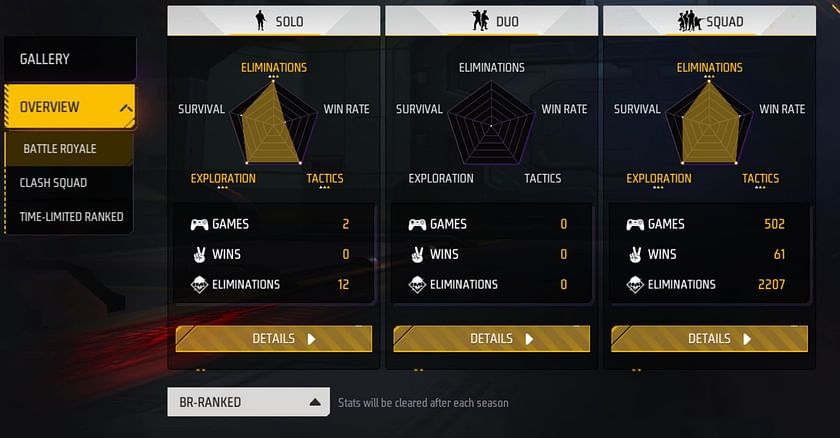 AxeGOD has engaged in two solo games in the ongoing Free Fire season but has no first-place finishes. He has killed 12 enemies for a K/D ratio of 6.00.
Coming to the squad-ranked matches, he has 502 participations and 61 wins, making his win rate 12.15%. He has 2207 kills at a K/D ratio of 5.00.
CS Career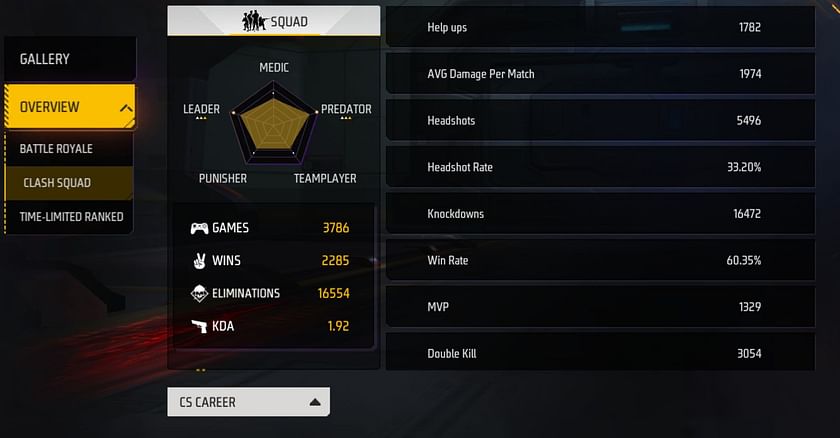 AxeGOD has played 3786 Clash Squad matches and has 2285 victories, possessing a win rate of 60.35%. He has 16554 eliminations for a KDA of 1.92.
Note: AxeGOD's Free Fire stats were recorded when writing this article (May 26, 2023). The stats listed above will change as he continues to play more games.
---
YouTube channel
AxeGOD has been posting content for a while, and the oldest Free Fire-related video on his channel dates back to November 2020. He currently has 68 uploads, and the highest-watched video has over 2.3 million views.
According to Social Blade, AxeGOD has acquired 45K subscribers in the last 30 days, showcasing his tremendous growth. His subscriber count has also expanded by 2.19 million over the same span.
Check out the latest Free Fire MAX redeem codes here.
Edited by Siddharth Satish