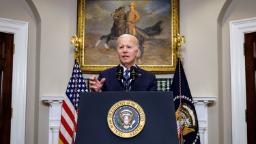 CNN
 — 

President Joe Biden kicks off his reelection campaign Saturday at a union rally in his frequent haunt of Pennsylvania, the state that remains an intersection of his personal and political identities that he hopes can propel him to a second term.
The first official rally of his final political campaign will be a moment for Biden to underscore recent economic wins that undergird his argument for another four years in the White House.
It could also provide his first opportunity to criticize former President Donald Trump since his indictment, arrest and arraignment – an episode that provides a window into the chaos Biden warns could return should Trump become president again.
Biden has instructed top Democrats to remain silent on the legal case itself, and that isn't likely to change when he speaks to union groups Saturday afternoon in Philadelphia.
But aides say that doesn't preclude Biden and other surrogates from continuing their criticism of Trump's policies and character as he remains the dominant front-runner in the Republican primary.
Still, the centerpiece of Biden's opening campaign salvo will be economic, anchored by recent endorsements from top labor groups. Biden hopes more Americans will come to associate him with economic gains, including a strong labor market and growth, even as uncertainty remains in the long-term global economic outlook.
Polls show many voters give Biden poor marks for his handling of the economy, particularly as prices soared post-pandemic. Recent figures have shown inflation easing, however, and fears of an imminent recession have faded.
Biden has said more Americans will come to reward him for his economic stewardship once the benefits of some of his signature legislative achievements, including a new infrastructure law, begin taking hold.
Labor groups that threw their backing behind Biden ahead of his speech include the AFL-CIO, which said it was the earliest point in a presidential election cycle it had ever endorsed a candidate.
"There's absolutely no question that Joe Biden is the most pro-union president in our lifetimes," said AFL-CIO President Liz Shuler. "From bringing manufacturing jobs home to America to protecting our pensions and making historic investments in infrastructure, clean energy and education, we've never seen a president work so tirelessly to rebuild our economy from the bottom up and middle out."
Biden has long relied on union support for his political ambitions, and made his first stop after announcing his reelection bid a legislative conference for North America's Building Trades Unions in Washington.
"I make no apologies for being labeled the most pro-union president in American history," he told the group.
Not all unions have thrown their support behind Biden's reelection bid. The powerful United Auto Workers said last month it was holding off on endorsing Biden, citing concerns over his policies that would encourage a transition to electric vehicles, according to a memo from the union.
The UAW has more than 400,000 members, and Biden has touted its support in the past. Last year he called American autoworkers "the most skilled autoworkers in the world." The group's membership is mostly concentrated in Michigan, a presidential election battleground.
Biden also rankled union members last year when he signed legislation that averted a nationwide rail strike – a step he said was necessary to prevent a stoppage of important freight movement.
Biden's campaign has leaned into his economic record, including releasing a 60-second ad titled "Backbone" last month. The spot struck a populist tone, mixing audio of the president speaking about "investing in places and people that have been forgotten" and a narrator ticking through the administration's work to boost infrastructure and manufacturing in the country.
"Joe Biden's building an economy that leaves no city, no town, no American behind," the narrator says.
Source link