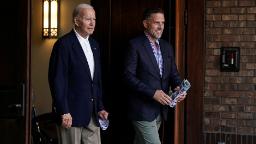 CNN
 — 

President Joe Biden on Friday publicly acknowledged a daughter of his son Hunter for the first time, breaking a long-held silence on the matter by describing the situation as a "family matter."
"Our son Hunter and Navy's mother, Lunden, are working together to foster a relationship that is in the best interests of their daughter, preserving her privacy as much as possible going forward," Biden said in a statement that was first reported by People.
The statement went on to read: "This is not a political issue, it's a family matter."
"Jill and I only want what is best for all of our grandchildren, including Navy," read the statement.
The statement amounts to the Bidens' first acknowledgment of their seventh grandchild.
The president spoke to his son and family about the overall situation with his grandchild, Navy, and wants what's best for her, including possibly meeting her at some point, according to a source familiar.
The matter has grown politically sensitive in recent months as Hunter Biden's legal predicament entered the spotlight.
Lunden Roberts, an Arkansas woman, gave birth to a girl and claimed Hunter Biden was the father in 2019. He denied paternity, but after a DNA test confirmed that he was the father, he eventually agreed in 2020 to pay $20,000 a month in child support.
Hunter Biden sought to reduce the monthly payments, and last month settled a child support case. As part of the deal, Hunter Biden will give some of his paintings to his daughter, who can either keep some of her choosing or keep the money from any sales of those paintings.
Roberts is also dropping her bid to change the girl's last name to "Biden," according to the court filing.
In court filings in April, Roberts said Hunter Biden "has never seen or contacted" his 4-year-old daughter and that President Biden and first lady Dr. Jill Biden "remain estranged" from their grandchild.
A source familiar with the situation pointed to the contentious legal proceedings for reasoning as to why the Bidens are now acknowledging their seventh grandchild.
"You have to remember there were some fairly contentious legal proceedings between Navy's parents happening until just a few weeks ago. As grandparents, the Bidens are following Hunter's lead. They are – and have been – giving Hunter and Lunden the space and time to figure things out," the source said.
Now that much of the legal matter has been sorted, "Navy's parents are working on a way forward that's best for her," the source said.
"Thousands of families have faced similar circumstances, working it out in private, versus the spotlight. At the center is a 4-year-old girl and everyone wants what is best for her, including all of her grandparents," said the source familiar.
This story has been updated with additional information.
Source link