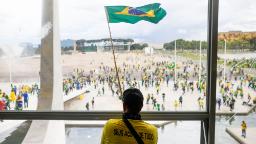 Former Brazilian President Jair Bolsonaro denounced the "depredations and invasions of public buildings" in Brasília, after his supporters stormed key government buildings Sunday.
Police say they have since cleared the crowds from the country's Supreme Court, the presidential palace and the congressional building.
Bolsonaro tweeted that "peaceful demonstrations, respecting the law, are part of democracy."
"However, depredations and invasions of public buildings as occurred today, as well as those practiced by the left in 2013 and 2017, escape the rule," he continued. "Throughout my mandate, I have always been acting according to the Constitution, respecting and defending the laws, democracy, transparency and our sacred freedom."
Some context: While Bolsonaro has said he would cooperate with the peaceful transition of power, he has also declined to explicitly concede his election loss in October.
The election came amid a tense and polarized political climate in Brazil, which has been struggling with high inflation, limited growth and rising poverty.
In the weeks since Bolsonaro's loss, thousands of his supporters have gathered at military barracks across the country, asking the army to step in as they claim, with no evidence, that the election was stolen.