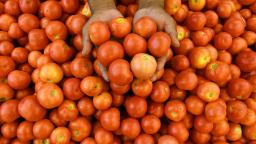 CNN
 — 

Tomatoes are off the menu in India as Burger King becomes the latest fast food chain to be impacted by rising prices of the culinary staple.
Last month, McDonald's

(MCD) announced that many of its restaurants across the country would be temporarily removing tomatoes from their burgers, citing quality issues and shortages of supply.
Now, Burger King's Indian outlets say they are "unable to add tomatoes."
In a frequently-asked-questions section on its website, Burger King assured customers that tomatoes will be back soon, saying their current absence was "due to unpredictable conditions on the quality and supply of tomato crops."
It was not clear whether the removal of tomatoes would apply to all or just some of its stores.
Burger King's decision comes after India's central bank raised its inflation forecast for the current financial year to 5.4% from 5.1% earlier, citing the rising prices of certain foods in the world's most populous nation.
"Going forward, the spike in vegetable prices, led by tomatoes, would exert sizeable upside pressures on the near-term headline inflation trajectory," it wrote in a statement.
Last week, Subway announced its Indian outlets would charge 30 rupees ($0.40) extra for a cheese slice in most sandwiches, Reuters reported.
As for tomatoes, Indian cuisine is unthinkable without the ubiquitous fruit. But the beloved ingredient is increasingly out of reach for many.
The cost of tomatoes in India has soared by more than 400% in recent months due to crop failures following scorching heat waves and heavy rains, according to farmers and agriculture experts, though prices have moderated somewhat in August.
A kilogram (2.2 pounds) of tomatoes sold in India's capital New Delhi this week cost 107 rupees ($1.29), a startling jump from the 27 rupees ($0.33) recorded in January, according to data from the Department of Consumer Affairs.
The high prices are due in part to extreme weather associated with climate change, said Jocelyn Boiteau, a post doctoral associate at the Tata-Cornell Institute for Agriculture and Nutrition.
According to Boiteau, only a few regions in India's south have suitable conditions for growing tomatoes during the summer months, so any "climate-related issues" in those areas can have a national-level impact on the supply of fresh tomatoes.
This summer, the country has been rocked by both unprecedented amounts of rain and blistering heat waves, highlighting how the world's most populous nation is among the most vulnerable to the effects of the climate crisis.
Source link