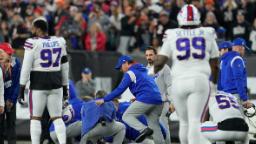 Fox Sports host Skip Bayless apologized for hosting his FS1 show "Undisputed" Tuesday morning following a controversial tweet — which he also said he was sorry for — about Buffalo Bills safety Damar Hamlin suffering a medical emergency during Monday's game.
His co-host, former NFL player Shannon Sharpe, did not appear.
Hamlin collapsed mid-game during the game against the Cincinnati Bengals and is currently in critical condition in an area hospital after suffering cardiac arrest.
During the incident, Bayless tweeted: "No doubt the NFL is considering postponing the rest of this game – but how? This late in the season, a game of this magnitude is crucial to the regular-season outcome … which suddenly seems so irrelevant."
That sparked outrage on Twitter from a number of current and former athletes. Former NFL player Jacob Hester told Bayless to "read the room, and have a heart." Vikings cornerback Patrick Peterson, former NFL player Darelle Revis and NBA analyst Kendrick Perkins, among many others, also criticized Bayless.
Bayless later followed up with a tweet apologizing for what he said was a misunderstanding.
"Nothing is more important than that young man's health. That was the point of my last tweet. I'm sorry if that was misunderstood but his health is all that matters," Bayless tweeted.
Bayless didn't acknowledge the tweet at the beginning of Tuesday's "Undisputed," but appeared emotional about the incident.
"I apologize for what for what we're going to set out to do here today, if it offends anyone because we're going to try to do the show pretty much as usual we do the show," he said. "I'll admit up front that I'm still shook up what happened last night to Damar Hamlin. In fact, I'm still wrecked. In fact, I'm not sure I'm capable of doing this show today," he said.
He added that after "barely sleeping on it," he decided to carry on with the talk show.
"We wrestled through much of the night whether to even do a show today because it felt like in our minds, we almost can't win with this because the last thing we want to do is come off as insensitive to what this young man is going through in a life or death situation," he said.
It was unclear why Sharpe was not on the program, though Bayless has clashed repeatedly with Sharpe, a former NFL tight end and a member of the Pro Football Hall of Fame, in recent weeks.
Bayless said Sharpe would return to the show Wednesday.
The NFL postponed Monday's game after coaches from both teams refused to continue the game, saying details on next steps would come at an "appropriate time."