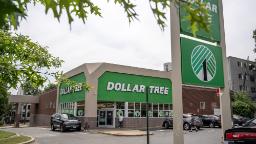 New York
CNN
 — 

Dollar Tree had a miserable quarter, and company management is chalking it up to a mix of factors: changing consumer demands on top of higher prices for fuel and electricity … and theft.
The company's chief executive and chief financial officer homed in on that last one on a call with Wall Street analysts Thursday.
Dollar Tree CEO Richard Dreiling and CFO Jeffrey Davis blamed a surprisingly large drop in gross profit margin — tumbling to 29.8% last quarter from 32.7% a year earlier — on "shrink," the industry term for inventory losses due to theft, damages and other causes.
Davis said the company has taken steps to fix the problem, but the shrink issue is getting worse — and "definitely advanced a little further than what we had anticipated."
In response, Dreiling said Dollar Tree and Family Dollar stores, which the company also owns, will take more drastic measures in the coming months.
"We are now taking a very defensive approach to shrink," Dreiling told analysts Thursday. "We have several new shrink formats that we'll introduce in the back half of the year, and it goes everything from moving certain SKUs to behind the check stand. It has to do with some cases being locked up. And even to the point where we have some stores that can't keep a certain SKU on the shelf just discontinuing the item. So we have a lot of things in the works."
Dollar Tree, Dollar General and other discount stores have had longstanding theft issues, operating stores with just a handful of employees who have at times been victims of violent robberies and other crimes. Dollar Tree employees have complained about unsafe working conditions, and OSHA Regional Administrator Kurt Petermeyer in Atlanta in February criticized the company for a "continued disregard for human safety" that "suggests the company thinks profits matter more than people."
Those changes to prevent theft will come at a cost, and the company said that's part of the reason why it lowered its profit forecast for the current quarter — which came in well below Wall Street analysts' forecasts.
Shares of Dollar Tree plunged 10% on the news.
Theft has become a growing concern for retailers. Dick's Sporting Goods this week also cited theft as a primary reason why its profit plunged last quarter, even though sales rose.
Retailers large and small say they are struggling to contain an escalation of store crimes — from petty shoplifting to organized sprees of large-scale thefts that clear entire shelves of products. Target warned earlier this year that it was bracing to lose half a billion dollars because of rising theft. The retailer reported a large number of incidents of shoplifting and organized retail crime in its stores nationwide.
It's not clear that crime is growing significantly more serious. Within the industry, at least one major player has argued that the problem is being overhyped: Walgreens earlier this year changed its tune on store theft hurting its business, saying, "Maybe we cried too much last year."
Dollar Tree also cited consumers' shift away from discretionary items as part of its problem. Target, Home Depot, Lowe's and other retailers have said much of the same — people are ditching purchases of items they don't need in favor of food and other items they require.
The company also said rising diesel prices have pinched profits because shipping costs have grown. And the summer heat has sent air conditioning costs through the roof; Dollar Tree said that, too, has hurt its bottom line.
Source link