Nordan "FaZe Rain" has been feuding with his esports organization for quite a few months now, and he recently took to Instagram stories to call out the CEO for mismanaging the company and causing a financial mess. The esports personality's attacks against the group have intensified in recent days, and he even alleged that signing Nickmercs to the organization was "damage control."
In a forty-second clip that he uploaded as part of his Instagram story today, Nordan laid out how the CEO apparently hired incompetent staff and overpaid certain executives to get millions of shares of the company.
"The craziest part is, the CEO got what, like, five to six million shares or something like that. And it's only because he hired a f*ckton of incompetent staff. Like some HBO boomers, boomers who don't get sh*t right. Overpaid some exec men a few thousand dollars a year, hundreds of thousands of shares, whatever, right? "
FaZe Rain continued by saying that the CEO caused a financial problem for the company:
"He causes the mess, and FaZe can't pay their employees. So he pays for it from his own money, like, he covers the mess that he made, and then he gets millions of shares for it."
The creator then laid down how he tried to help the organization by recruiting a Counter-Strike: Global Offensive team but got nothing in return, while the CEO who had allegedly caused harm to the company got millions of shares:
"I buy a Counter-Strike team for us when we need it. That's only a blessing. That's not even a mess. I just actually advocate for the team. I get nothing for it, nothing. Not even a dollar!"
---
"Damage control to the TFUE situation": FaZe Rain claims the organization signed Nickmercs to repair damage caused by the TFUE controversy
Fans of FaZe Clan and esports, in general, will remember the fiasco that was the TFUE contract scandal that became a huge deal back in 2019-20. Without going into the details, the Fortnite content creator had come out saying that the contract that was offered to him by the organization was "oppressive," creating a huge stir in the community.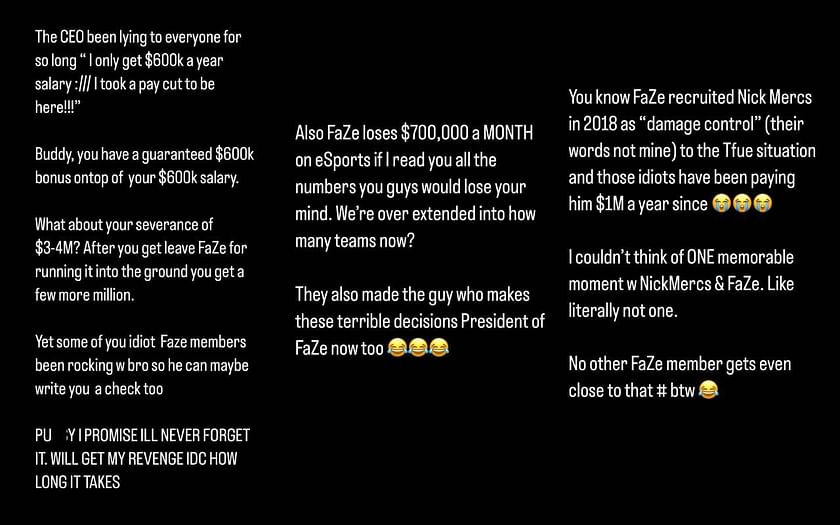 In his latest Instagram stories, FaZe Rain has claimed that by recruiting popular Call of Duty streamer Nickmercs to the clan, the higher-ups sought to repair the damage done to their image. He also revealed that the creator is allegedly getting a million dollars a year for the deal:
"You know FaZe recruited Nick Mercs in 2018 [sic] as 'damage control' (their words not mine) to the TFUE situation and those idiots have been paying him $1M a year."
FaZe Rain further tore into Nickmercs, insinuating that he has done nothing memorable for the organization:
"I couldn't think of one memorable moment w Nickmercs & FaZe. Like literally not one."
---
FaZe Rain has been openly talking against the esports giants for some time now, and he recently leaked a piece of upcoming news about popular Twitch streamer and Stranger Things actress Grace Van Dien potentially joining the group. He also called it a political move in a tweet reply to journalist Jake Lucky.
Edited by Siddharth Satish