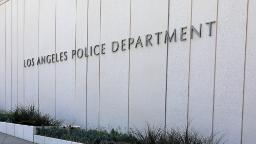 CNN
 — 

A federal grand jury on Friday indicted the man accused of shooting two Jewish men in February with hate crime and firearm offenses, the US Attorney's Office for the Central District of California said in a news release.
The grand jury indicted Jaime Tran, 28, with two hate crime counts for willfully causing bodily injury and attempting to kill his victims and two counts of discharging a firearm in relation to a crime of violence, the indictment states.
Tran is accused of targeting and shooting two Jewish men as they were leaving religious services at separate Los Angeles synagogues in the same predominantly Jewish neighborhood on February 15 and 16. Both men were taken to hospitals after the shootings.
According to a news release from federal prosecutors, Tran's had a history of antisemitic statements, which "escalated and [he] used increasingly violent language" between August 2022 to December 2022. In one case, he repeatedly called and texted a former classmate with hateful messages, one of which said, "Someone is going to kill you, Jew," prosecutors allege. It is unclear whether Tran had been charged previously for the alleged messages.
Prosecutors also stated that if Tran is convicted, they will seek forfeiture of his firearms – a Kahr Arms pistol and an AK-style Zastava rifle – as part of his sentence, court documents show.
CNN has reached out to Tran's attorney for comment.
Tran is scheduled to be arraigned on March 9.
According to prosecutors, if Tran is convicted he would face a statutory maximum sentence of life in federal prison for each hate crime count. A firearms conviction would bring a mandatory minimum sentence of 10 years with a possible maximum sentence of life in prison.
Tran was taken into federal custody after being arrested by police February 17 in Riverside County, about an hour's drive east of Los Angeles, where he previously resided, authorities said. Detectives found several pieces of evidence, including guns, the Los Angeles Police Department said.
Prosecutors did not identify the two victims in the indictment. At the time of the shootings, both were dressed in a manner that visibly identified their Jewish faith as they wore black coats and head coverings, US Attorney Martin Estrada said previously.
The shootings came amid a rise in antisemitic violence nationwide. According to the Anti-Defamation League, antisemitic attacks reached a record high in the US in 2021 – up 34% from 2020.
Source link