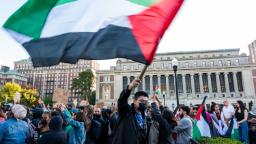 Abood Okal, a US citizen stranded in Gaza with his family and 1-year-old son, says after several attempts to cross from the besieged enclave into Egypt, there is still no sign his family can evacuate Saturday.
Okal and his family, who had traveled from Massachusetts to Gaza, followed instructions from the US State Department and went to the Rafah crossing in southern Gaza Saturday morning, he told CNN's Amara Walker.
The family has been there since 9 a.m. local time (2 a.m. ET), Okal said, noting that a message from the State Department indicated the crossing would open at 10 a.m. local time.
"It's basically 3:15 (local time) right now, and there is no sign of the crossing open," he said. "Aid trucks have come through and entered Gaza, and yet here is not updated information from the State Department or the US Embassy in Cairo regarding our situation."
What we know: Gaza is blockaded by land, air and sea by Israel, which has declared war on its Hamas rulers for a brazen attack on October 7 that killed 1,400 people. The Rafah crossing to Egypt is the only viable option for Palestinians and foreign nationals trying to leave Gaza.
While the crossing opened briefly Saturday to allow a limited amount of humanitarian aid through, it has remained closed to evacuees. The US has been pressuring Egypt to establish a humanitarian corridor for civilians in Gaza, as well as for Americans and other foreigners. But the process of opening passage has been complicated by the multiple parties involved.
Perilous trips end in frustration: Saturday marks the latest of several attempts by Okal's family to try to cross the border after taking "risky drives" and burning fuel reserves.
He told CNN that he and his family "bake in the sun all day, and then no communication thereafter — only to have the sun set on us, and basically force us to leave back to wherever (we are) sheltering for fear of our lives. This is an extremely dangerous area."
When discussing where the family shelters at night, he said they have "had to run for their lives." The family is now staying close to the border at a "friend of a friend's house" with someone they had never met before, according to Okal. 
"We have been staying in a normal single-family home, two floors, with about 40 people sharing everything we can share — from food to drinking supplies," he said. 
Food is also scarce, according to Okal, and the family cannot easily find milk for their son. He said he has to go to multiple different markets "at times under shelling and during airstrike" to find milk.
The family is trying to keep their son safe "as much as we can." The child "may not be able to comprehend everything that is happening, but he does pick up on fear" when there is an airstrike, the father said.
"There is no way to try to fool a child that is not safe," he said. "Despite that, we try to stay calm with him."
Okal said his family thought the US government "had our back," and that they would be able to exit, but "that is not how things are translating on the ground."
"We keep getting promised that we will cross over to Egypt and that is not happening, and I don't know why we are stuck in this situation," he said.
Source link