The Project Crimson events have slowly picked up pace in Free Fire MAX, and the game is filled with multiple activities that will keep players hooked for hours at a stretch. Garena has even launched a web event for the release of a new character, Orion. Two recently commenced events are Match Mayhem and Play King of Revenge.
The former requires that you play a particular number of games, while the latter incentivizes you to play the newly added game mode. This article provides a detailed overview of the new events and the steps to receive items.
---
New Project Crimson events added to Free Fire MAX
Match Mayhem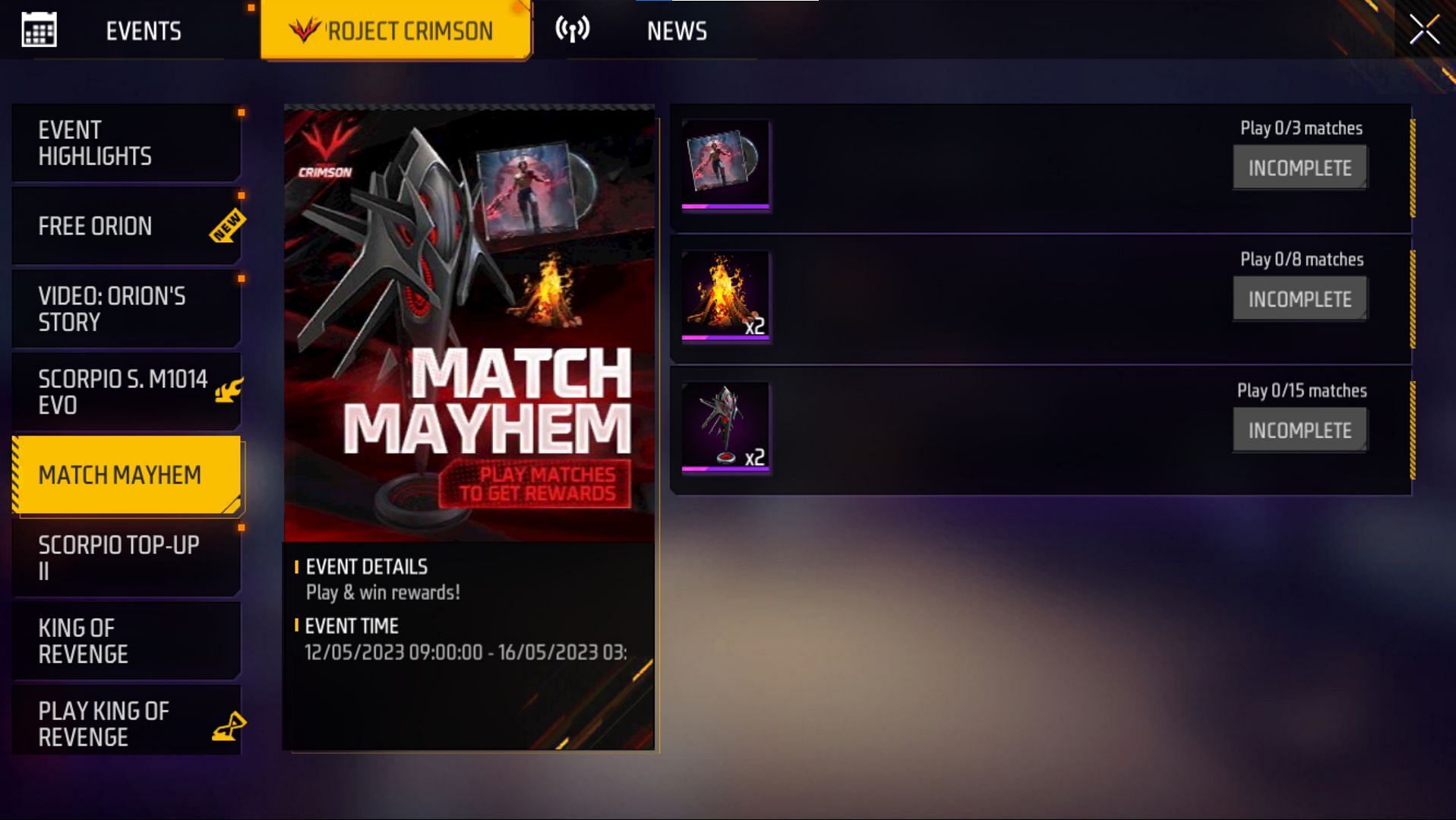 The Match Mayhem event commenced on May 12, 2023, and will remain active inside Free Fire MAX until May 15, 2023. It requires you to engage in a given number of matches to get your hands on themed Project Crimson rewards, including music and more.
The following are the requirements to receive the available rewards:
Play three matches to get Project Crimson music
Play eight matches to get free 2x Bonfire
Play 15 matches to get free 2x Crimson Descent
Since the requirements are simple, you can play 15 matches in any game mode in one to two days to get the three available items. Rewards like the Project Crimson music and Crimson Descent must not be missed.
---
Play King of Revenge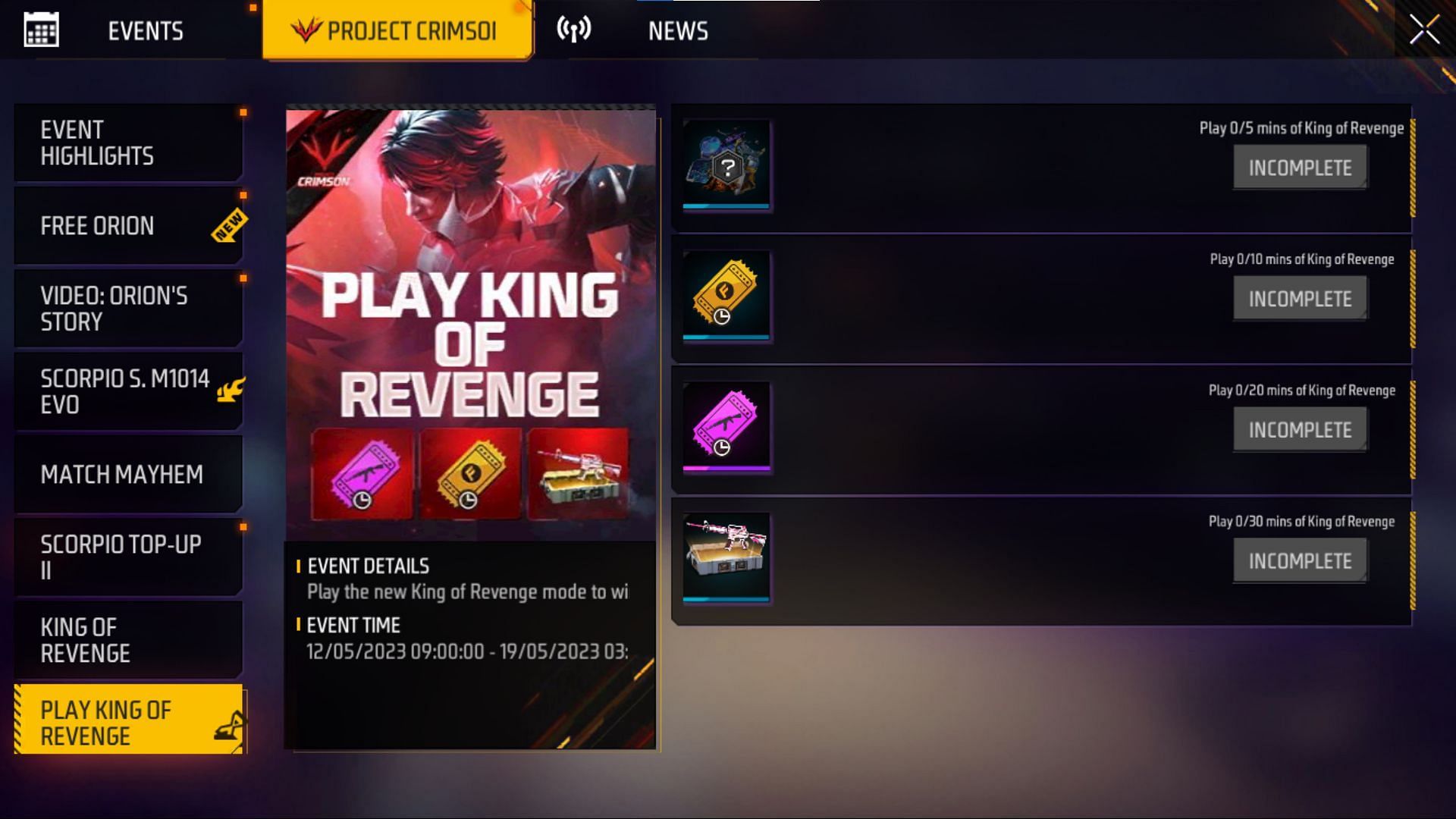 Garena has added the Play King of Revenge to encourage players to try out the King of Revenge game mode. The event will be running between May 12, 2023, and May 18, 2023. Essentially, you will have to play the specific mode for 30 minutes to get four amazing rewards.
Listed below are the exact details on how you will be able to get the four items:
Play five minutes of King of Revenge to get a free Random Loadout Loot Crate
Play 10 minutes of King of Revenge to get a free Gold Royale Voucher (Expiry date – June 30, 2023)
Play 20 minutes of King of Revenge to get a free Weapon Royale Voucher (Expiry date – June 30, 2023)
Play 30 minutes of King of Revenge to get a free M4A1 – Pink Laminate Weapon Loot Crate
Playing 30 minutes is pretty simple, and you only have to engage in a few matches in the game mode if you wish to collect the rewards.
---
Steps to claim the rewards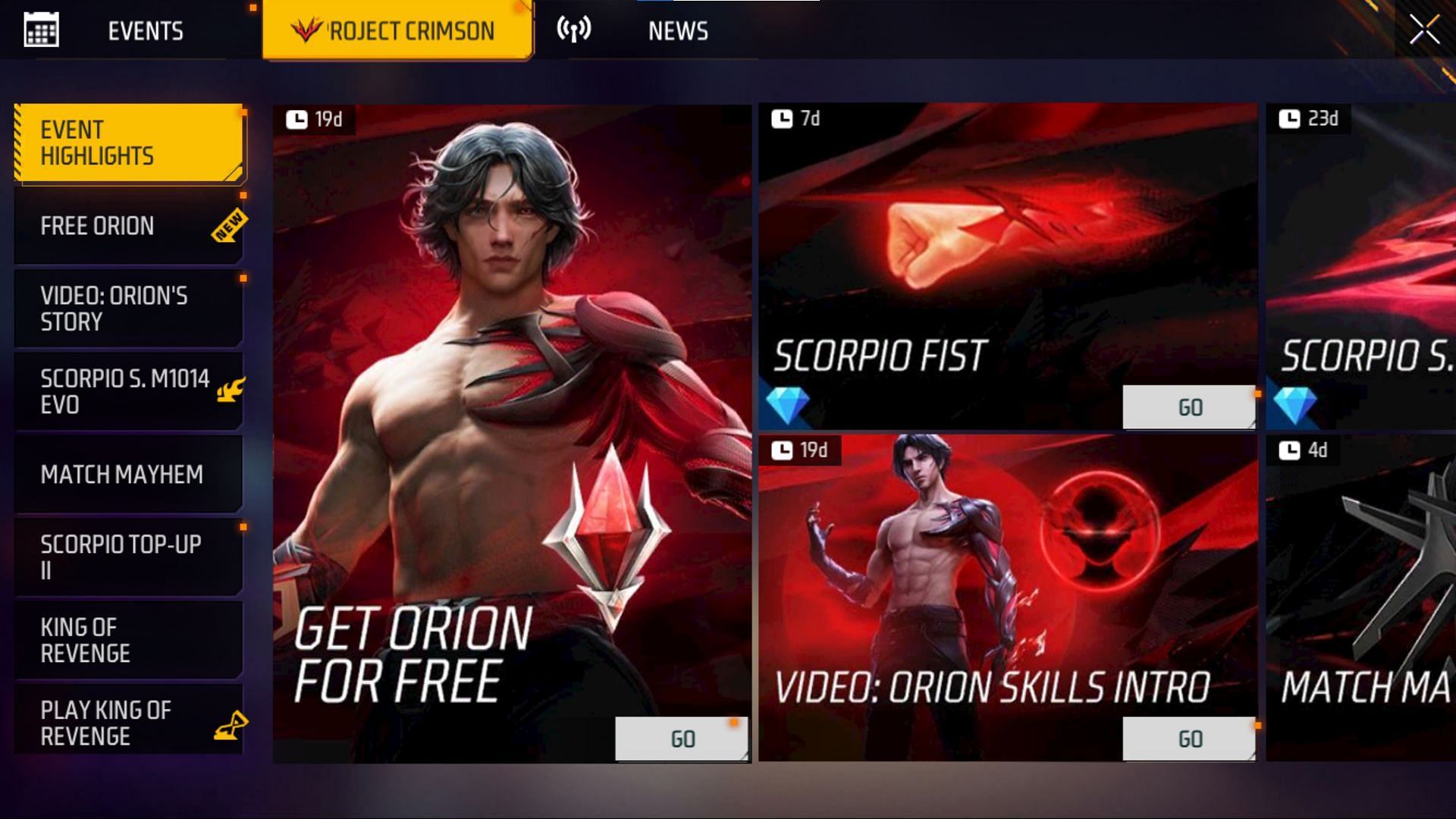 Follow the steps outlined below to claim the rewards from the two different events:
Step 1: Boot Free Fire MAX on your device and then navigate to the Project Crimson event section by clicking the Calendar icon.
Step 2: You must select the required event, i.e., Match Mayhem or Play King of Revenge.
Step 3: You can then claim the relevant rewards of the two events.
After these events run their course, more events on Project Crimson will make their way into the game. Stay tuned for their arrival to get more free rewards.
Check out the latest Free Fire MAX redeem codes here.
Edited by Siddharth Satish