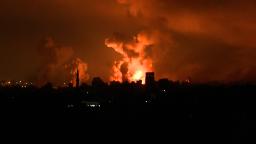 A near total communications blackout has impacted the work of medical staff in Gaza, with paramedics unable to reach the injured and hospitals unable to contact each other.
Dr. Mohamad Al-Rayan, a physician at Al Aqsa Martyrs Hospital in central Gaza, said medics have faced delays in getting to people injured by Israeli airstrikes overnight. 
"Paramedics could not reach (the injured), because they had no communication with them. There were a few solutions to the problem, but the situation was very difficult and dangerous. The injured arrived at the hospital many hours later, (as) we could not reach them in a fast and direct manner," he said. 
He told CNN that hospitals in Gaza had also lost contact with one another, making the transfer of patients needing specialist surgery between hospitals even harder. 
A journalist in central Gaza told CNN that Israeli artillery shelling "did not stop" on Saturday. Video filmed by Hassan Eslayeh showed ambulances and cars arriving at the Al Aqsa Martyrs Hospital, with crowds of people waiting outside the hospital entrance. Another video showed a young man lying on the floor of the hospital as doctors operated on him.
Eslayeh said the injured and dead being brought to the hospital were casualties of artillery shelling rather than airstrikes.
Families unable to speak: CNN's producer in Gaza, Ibrahim Dahman, said he is struggling to contact relatives in the enclave in the face of the blackout. 
"I cannot reach them, and I don't know anything about them," Dahman said in one of several short voice recordings sent to CNN colleagues on Saturday using a phone with a foreign SIM card, which allows him intermittent connection via WhatsApp. 
"Even if they were subjected to shelling, or to be killed or wounded, I wouldn't know anything," he said. 
Since fleeing Gaza City with his wife and children on October 9, Dahman has been using WhatsApp to communicate with friends, family and colleagues. 
Now he says "there is no internet throughout the whole of the Gaza Strip" – another cause for concern for him and the other families he is sheltering alongside in the southern city of Khan Younis. 
"Everybody is gloomy, everybody is scared. … This is a big, big shock to everyone," Dahman said. 
Jawwal and Ooredoo, two mobile phone companies operating in Gaza, and Paltel, a fixed-line operator, said in separate statements Saturday that their services in the strip remained down.   
Source link