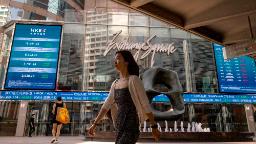 Hong Kong/London
CNN
 — 

Global stocks climbed Friday, led by a resurgent Hong Kong market, as investors greeted signs that the US Federal Reserve may hold off raising interest rates this month, the end of the US debt ceiling drama, and talk that China might unveil new measures to boost its faltering economic recovery.
The Hang Seng

(HSNGY)closed 4% higher, notching its biggest one-day gain in three months. Other Asian markets, US stock futures and European indexes also rose. Oil prices climbed more than 1.5%.
US markets are now pricing in only a 26% probability of a Fed rate increase on June 14, down from 64% a week ago, according to the CME FedWatch Tool.
A key comment came Wednesday from Philip Jefferson, a Fed governor. He said in a speech that a pause in the central bank's campaign of rate hikes at the June meeting wouldn't mean that hikes were finished but would instead give Fed officials more time to assess the state of the US economy.
Markets received an additional boost Friday after the US Senate passed a bill late Thursday evening to suspend the nation's debt limit, averting a first-ever US default just days before a June 5 deadline set by the Treasury. The House passed the measure earlier this week, and it can now be sent to President Joe Biden to be signed into law.
"While the issue was expected ultimately to reach a satisfactory conclusion, there was nonetheless relief as the legislation avoids what would have been a disastrous US default," said Richard Hunter, head of markets at trading platform Interactive Investor.
"Comments from Fed members also lifted sentiment, suggesting that the time for a pause in the rate-hiking cycle might now be appropriate."
Dow, S&P 500 and Nasdaq futures were all around 0.5% higher at 6.46 a.m. ET.
The benchmark Stoxx Europe 600 index rose 1%, as did London's FTSE 100

(UKX) index. Meanwhile, the CAC 40

(CAC40) in France was up nearly 1.3% and Germany's DAX

(DAX) almost 1.2% higher.
Brent crude, the benchmark for global oil prices, gained almost 1.6% to trade at $75.46 a barrel.
In Hong Kong, the two best-performing stocks were Chinese real estate developers Longfor Group

(LNGPF) and Country Garden Services, soaring 17% and 12% respectively. Shares of tech and electric vehicle companies were also among top gainers.
The Hang Seng index flirted with a bear market earlier this week, after weak economic data from China ignited worries that a post-Covid recovery had stalled in the world's second largest economy.
But market sentiment took a turn Wednesday, after a key gauge of activity in China's small and medium-sized factories showed unexpected growth last month.
Also on Wednesday, Qingdao, a city in eastern China, unveiled a new package of policies to spur demand for property, including lowering the down payment requirement for mortgages.
Analysts have been expecting the Chinese government to roll out more measures to stimulate the moribund property market.
Citing people familiar with the matter, Bloomberg reported Friday that China was working on such measures. According to the report, regulators are considering reducing the down payment in some neighborhoods of major cities and lowering agent commissions on transactions among other policies.
Elsewhere in Asia, South Korea's Kospi index ended the day 1.3% up, Japan's Nikkei 225 was 1.2% higher, and the Shanghai Composite Index gained 0.8%.
Source link