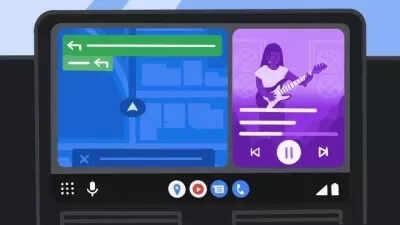 Keeping safety in mind,
Google
prevents users from using Maps on mobile devices when Android Auto is running in the car's dashboard. This certainly brought safety to users, but it was equally frustrating at times. Reditt users have reported that Google has finally lifted this restriction and it now allows users to run Maps on both phone's display as well as car's infotainment system at the same time.
Considering, Google Maps on Android Auto only showed necessary information such as ETA, turn-by-turn navigation, distance remaining and music control, but the mobile version has a lot more information including, option to choose different routes, access more information about the location users are trying to visit, including toll prices, parking situations and even air quality.
Why it is so important for users
Having the option to use Maps on both phone screen and Android Auto at the same time fixes one of the biggest challenges with Maps on Android Auto. If you've every used Maps on Android Auto, then you must be aware of the fact that it only lets users input the destination via voice commands or from recent options. For sure the voice command input is safer, but at times it fails to capture the right name of the location and often shows wrong locations. With the option to use Maps on the phone, users can now simply add a location on their phone and start the navigation on Android Auto.
Apple Maps on CarPlay already has this option
In comparison, Apple Maps with CarPlay connected works on both the screens and users have been able to interact with both without any such limitations. On the other hand, Apple Maps also shows more information on the car's infotainment system compared to Google Maps.