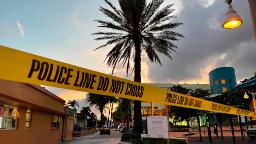 CNN
 — 

Nine people were shot, including a 1-year-old child, during an altercation Monday night between two groups near a busy area of the beach in Hollywood, Florida, officials said.
Police have detained one person of interest but are still searching for an additional suspect, who was described as wearing a black short-sleeve shirt and camo shorts, Hollywood Police Department spokesperson Deanna Bettineschi told reporters.
The injured range in age from 1 to 65, Bettineschi said.
The gunfire that rang out as people gathered at the end of a long holiday weekend was part of at least 262 mass shootings in the US so far this year, according to the Gun Violence Archive, which defines a mass shooting as one in which at least four people are shot, excluding the shooter.
The beachside scene joins the list of other common destinations that have been the setting of gun violence, including schools, grocery stores, birthday parties and malls.
Authorities say the shooting happened near Johnson Street and North Broadwalk, a bustling palm-tree lined pedestrian walkway that straddles the beach and features restaurants and shops.
The sound of gunfire sent people fleeing down the busy sidewalk and into the nearby sand, footage from the city's beach camera live feeds shows.
When police responded to the area around 6:45 p.m., they found nine people had sustained gunshot wounds, Bettineschi said.
The injured were transported to Memorial Regional Hospital and Joe DiMaggio Children's Hospital, according to Memorial Healthcare System spokesperson Yanet Obarrio-Sanchez.
Though the hospital spokesperson said all the victims were in stable condition, Bettineschi noted one person was undergoing surgery late Monday.
Authorities asked people to avoid the area as the investigation continued.
A family assistance center has been set up near Johnson Street and North Ocean Drive, Bettineschi said.
"This is an area where families can go and they can talk to the detectives on scene and ask them questions about family members, and they can also get information about their vehicles that may be inside of the crime scene."
Hollywood is about 20 miles north of Miami and is home to Hollywood Beach, a popular tourist destination.
Source link