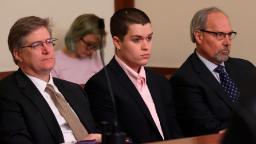 CNN
 — 

House Democratic Whip Katherine Clark's daughter was arrested during a protest in Boston and has been arraigned on charges including assault on a police officer.
Riley Dowell, 23, was found by police tagging the Parkman Bandstand monument "NO COP CITY" and "ACAB," according to a press release from the Boston Police Department. "ACAB" is commonly known as an acronym for the anti-police slogan "All Cops Are Bastards."
While police tried to arrest Dowell, protesters surrounded officers and one was hit in the face and bleeding, according to the press release. The release referred to Dowell by her birth name.
Dowell has now been arraigned and charged with assault of a police officer, according to a news release from Suffolk County District Attorney Kevin Hayden's office.
"Riley Dowell, 23, was arraigned in the Central Division of Boston Municipal Court today on charges of assault and battery on a police officer, vandalizing property, tagging property, vandalizing a historic marker/monument, and resisting arrest," the release obtained by CNN affiliate WCVB said. "Judge James Coffey set bail at $500 and ordered Dowell to stay away from Boston Common."
Dowell is represented by attorney Chris Dearborn, according to the release. Dearborn had no comment when reached by CNN. Dowell's next court appearance is scheduled for April 19, the release said.
Dowell posted bail and is no longer in police custody, the Boston Municipal Court told CNN in an email Tuesday.
Clark commented on the news in a tweet Sunday.
"Last night, my daughter was arrested in Boston, Massachusetts. I love Riley, and this is a very difficult time in the cycle of joy and pain in parenting," Clark wrote. "This will be evaluated by the legal system, and I am confident in that process."
Clark began serving as minority whip in the 118th session of Congress after House Democrats elevated her to the position.
Clark is only the second woman after former House Speaker Nancy Pelosi to serve in one of the top two party leadership positions in Congress.
Previously, the congresswoman served in the leadership role of assistant speaker.
This story is breaking and has been updated.