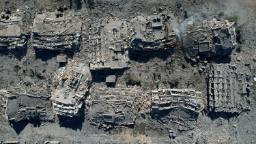 CNN
 — 

Israel's military said it would increase its aerial bombardment of Gaza, and carried out a rare airstrike in the occupied West Bank, as it signaled it was readying for a new phase of war against Hamas.
As the Israel Defense Forces (IDF) prepares for a potential ground operation, it has amassed huge numbers of troops outside Gaza and pounded the densely populated enclave with near-constant airstrikes since Hamas' deadly October 7 attack on Israel.
"We will increase our strikes, minimize the risk to our troops in the next stages of the war, and we will intensify the strikes, starting from today," Daniel Hagari, an IDF spokesman, said Saturday. "We continue to destroy terror targets ahead of the next stage of the war, and are focusing on our readiness to the next stage."
The Biden administration has pressed Israel to delay its imminent invasion of Gaza to allow for the release of more Hamas hostages and aid into Gaza, according to two sources briefed on the discussions. The Friday release of two Americans held by Hamas signaled the possible freeing of more of the around 200 believed to be kidnapped by the militant group after its deadly attacks two week ago.
Violence has also flared in the occupied West Bank. The IDF on Sunday launched an airstrike on the Al-Ansar mosque in the West Bank refugee camp of Jenin, which it said was being used by militant groups to plan for "an imminent terror attack." It would not say whether the strike came from a jet, in what would be the first fighter jet strike in the West Bank in nearly two decades.
Lt. Col. Jonathan Conricus, and IDF spokesman, told CNN that the military had intelligence that "suggested there was an imminent attack coming from a joint Hamas and Islamic Jihad squad," which was making preparations from an underground command center beneath the mosque.
Three people were killed in the Israeli strike, the Palestinian Ministry of Health said in a statement on Sunday. Two people were also killed following clashes in the West Bank cities of Toubas and Nablus, it said.
Since the war erupted, Israel authorities have placed additional restrictions on movement of Palestinians living in the West Bank, and attacks by Israeli forces and settlers have surged. At least 90 people have been killed in the occupied Palestinian territory since October 7, according to the Palestinian Ministry of Health.
In pictures: The deadly clashes in Israel and Gaza
In Gaza City, the IDF dropped leaflets written in Arabic that warned residents to evacuate to the south or face the possibility of being considered "a partner for the terrorist organization," according to a CNN translation.
In a statement, the IDF confirmed it had dropped the flyers, but said there was "no intention to consider those who have not evacuated from the affected area of fighting as a member of the terrorist group."
The IDF "treats civilians as such, and does not target them," the statement added.
Israeli war planes have been pounding Gaza, leveling entire neighborhoods, including schools and mosques. Israel says it strikes Hamas targets and that the group has used civilians as human shields.
As of Sunday, Israeli airstrikes have killed 4,651 people in Gaza, including hundreds of women and children, according to the Palestinian Ministry of Health in Gaza. More than 14,245 people have been wounded, it added.
In northern Gaza, more than 1 million residents have been told by Israel to leave their homes and move to the south.
Israel has also ordered the evacuation of more than 20 hospitals in northern Gaza where thousands of patients are being treated, according to the United Nations and the Palestinian Red Crescent, which say the order could be tantamount to a death sentence.
"We do not have the means to evacuate them safely. Most of the patients are with critical injuries," Nebal Farsakh, a Red Crescent spokesperson, told CNN Sunday, adding that the hospitals are under the threat of "being bombed at any second due to Israeli evacuation orders." The organization said on Friday that the Israeli military issued three evacuation orders for the Al-Quds Hospital.
The IDF has said it does not target hospitals, though the UN and Doctors Without Borders say Israeli airstrikes have hit medical facilities, including hospitals and ambulances.
Israel has offered no timeline for the possible ground offensive on Gaza, but military officials have repeatedly told troops an incursion is imminent.
The Israeli Military Chief of Staff, Herzl Halevi, told IDF commanders Saturday that the military will initiate an operation to "destroy" Hamas.
"We'll enter the Gaza Strip. We'll embark on an operational and professional task to destroy Hamas operatives and infrastructures," the chief said in comments to the Golani Brigade of the IDF.
The United States and its allies have urged Israel to be strategic and clear about its goals during any ground invasion of Gaza, warning against a prolonged occupation and placing a particular emphasis on avoiding civilian casualties.
During his visit to Israel last week, US President Joe Biden "asked some hard questions" about Israel's ground invasion strategy, a senior US official told CNN, adding: "we're not directing the Israelis, the timeline is theirs – their thinking, their planning."
Meanwhile, the US military is sending more missile defense systems to the Middle East and placing additional US troops on prepare-to-deploy orders in response to escalations throughout the region in recent days.
US Secretary of Defense Lloyd Austin said Saturday he had "activated the deployment of a Terminal High Altitude Area Defense (THAAD) battery as well as additional Patriot battalions to locations throughout the region to increase force protection for US forces."
The order for troops to prepare for deployment is meant "to increase their readiness and ability to quickly respond as required," he said.
Both the THAAD and Patriots systems are air defense systems designed to shoot down short, medium and intermediate ballistic missiles.
Conditions in Gaza have become increasingly dire following two weeks of bombardment and a complete siege by Israel, which was unleashed in response to a rampage by Hamas that killed more than 1,400 people in Israel.
Hamas fighters have also abducted about 210 people into Gaza as hostages, according to an estimate released Saturday by the IDF. Two American hostages, a mother and her 17-year-old daughter, were released Friday.
CNN has seen 15 humanitarian aid trucks enter the border from Egypt to Gaza through the Rafah crossing on Sunday, a day after the first convoy of 20 trucks carrying food, water, medicine and medical supplies was allowed through following intense diplomatic efforts. The trucks will go through additional security checks before entry into the strip, a security official told CNN.
The Egyptian Red Crescent said 17 aid trucks were preparing to enter the strip through the Rafah crossing on Sunday.
"God willing, I am now entering the crossing, or in a few minutes. God willing, to deliver this aid and will go in and out safely, God willing," Ali Shousha, one of the drivers waiting to cross into Gaza, told CNN.
But aid workers and international leaders have warned that much more is needed to combat the "catastrophic" humanitarian situation in the enclave that is home to more than 2 million people.
WHO director general Tedros Adhanom Ghebreyesus has stressed that "the needs are far higher" than the aid people in Gaza have received.
The Ministry of Health in Gaza said the initial aid convoy constituted "only 3% of the daily health and humanitarian needs that used to enter the Gaza Strip before the aggression."
From Ramallah, in the occupied West Bank, head of the Palestinian National Initiative Mustafa Barghouti said Gaza needs "7,000 trucks of immediate aid," adding, "20 trucks will not really change much."
None of those 20 trucks brought fuel to the enclave, raising concerns as it is needed to run hospitals and to desalinate or treat water, according to aid agencies.
One UN official warned on Sunday that the UN's fuel supply in Gaza will run out in three days. "Without fuel, there will be no water, no functioning hospitals and bakeries," Philippe Lazzarini, commissioner general for the United Nations Relief and Works Agency for Palestine Refugees in the Near East (UNRWA), said. "Without fuel, aid will not reach many civilians in desperate need."
Citing an acute shortage of food, water, power, and medical supplies that is pushing civilian lives in Gaza "to the edge of catastrophe," the UN's World Food Programme (WFP) said it urgently requires $74 million to sustain its emergency response in Gaza for the next 90 days.
The appeal came in a Palestinian Territories situation report Saturday that said the coastal enclave's stores have food reserves of less than a week and that the ability to replenish these stocks is "compromised by damaged roads, safety concerns, and fuel shortages."
Three WFP trucks were part of the convoy of that moved through the Rafah crossing into Gaza on Saturday. Another 40 WFP trucks are waiting at Al-Arish, Egypt, to enter Gaza, the report said.
As it prepares for the next stage of war, the Israeli military has warned other regional actors against getting involved in the conflict.
Conricus, the IDF spokesperson, said Sunday the Lebanese militant group Hezbollah is "playing a very dangerous game" that could drag Lebanon "into a war that it will gain nothing from."
Conricus said Hezbollah has been attacking Israeli positions near the Lebanon border, which had led to both civilian and military casualties.
In response, the IDF has used tanks, drones, artillery, and infantry to strike various Hezbollah infrastructure, as well as Hezbollah squads manning anti-tank missiles, he added. 
On Sunday, Israel's Ministry of Defense and the IDF announced the expansion of a state-funded evacuation plan to 14 additional communities in northern areas near the border with Lebanon. The evacuation, which is voluntary, was initially rolled out on Monday for 28 communities. Around 123,000 civilians had been evacuated from their homes in northern and southern Israel as of Friday.
Meanwhile, Syrian state news agency, citing an unnamed military source, reported that Israel had targeted airports in the capital Damascus and the northern city of Aleppo at around 5:25 a.m. on Sunday morning, damaging runways and putting both out of service. The agency reported that one worker at Damascus airport was killed and another injured, and all air traffic was being diverted to the city of Latakia.
The IDF told CNN it had no comment on the report.
Source link