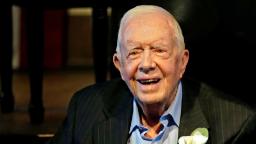 CNN
 — 

The Jimmy Carter Presidential Library and Museum has moved up planned festivities for the former president's 99th birthday amid the possibility of a government shutdown by the end of the week.
Some events will now be held on Saturday instead of Sunday, the Carter library said. Although activities remain scheduled for Sunday, absent a breakthrough in negotiations in the House of Representatives, government funding is set to expire at the end of the day on Saturday, September 30 – a day before Jimmy Carter's birthday. A shutdown could affect some of the country's most beloved treasures such as museums and national parks and some presidential libraries would close, according to the National Archives and Records Administration's plans.
Tony Clark, the director of public affairs at The Jimmy Carter Presidential Library and Museum, told CNN that although some aspects of the Carter library share spaces with the nonprofit Carter Center, some of it would be closed in the event of a shutdown.
"We are starting early to make sure we have a celebration," Clark said.
"Some libraries have a non-governmental foundation that operates their museum rather than NARA. Those are able to stay open. The Carter Library works closely with The Carter Center and share some spaces, but the museum is not one of those. So while we anticipate Congressional funding to resume October 1, if it doesn't, the government side of the Presidential Center will be closed," Clark said.
The George W. Bush and George H. W. Bush presidential libraries are among the libraries expected to remain open.
To celebrate the former president's birthday, The Carter Center asked the public to share birthday messages, memories and tributes to be featured in a digital and physical mosaic of Jimmy Carter that will be displayed across the country ahead of his birthday on October 1.
Jimmy Carter and his wife, Rosalynn, made a public appearance last week when they took a ride through the Plains Peanut Festival in Plains, Georgia.
"Beautiful day for President & Mrs. Carter to enjoy a ride through the Plains Peanut Festival! And just a week before he turns 99. We're betting peanut butter ice cream is on the menu for lunch! #JimmyCarter99," the Carter Center said Saturday in a post on X.
In an interview with People published last month, the Carters' grandson said, "It's clear we're in the final chapter." Family and caregivers had been the only recent visitors to the Carters' Plains home, Josh Carter told People.
Jimmy Carter entered hospice care in February. The former president beat brain cancer in 2015 but faced a series of health scares in 2019, and consequentially underwent surgery to remove pressure on his brain.
In his post-presidency years, Carter founded The Carter Center along with his wife, Rosalynn, in hopes of advancing world peace and health. Jimmy Carter has been a longtime volunteer with Habitat for Humanity. He also received the Nobel Peace Prize in 2002 for his efforts to push for peace across the globe.
A peanut farmer and US Navy lieutenant before going into politics, Carter, a Democrat, eventually served one term as governor of Georgia and was president of the United States from 1977 to 1981.
Source link