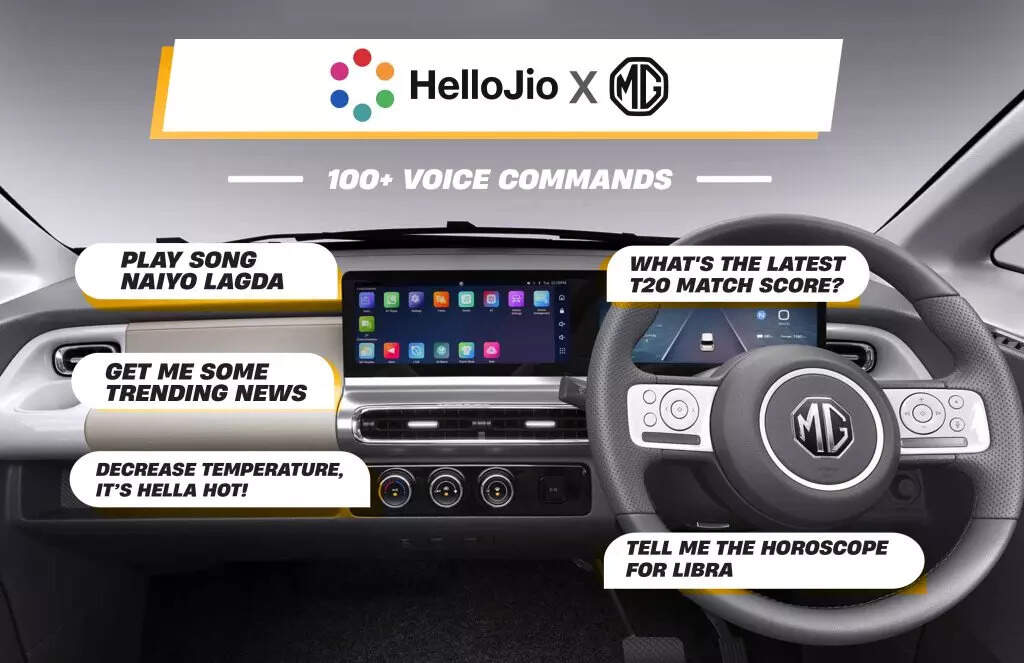 MG Motor India has announced a range of connected car features in association with Jio Platforms. As part of this partnership, MG Motor India will offer seamless integration of Hinglish Voice Assistant-enabled experiences powered by Jio's Digital Assets in its newly launched Comet EV.
MG Comet EV
to come with HelloJio voice assistant
MG Comet EV customers will benefit from Jio's innovative assets such as India's first-ever Hinglish Voice Assistant system integrated with Music Apps, payment apps, connectivity platform, and hardware. The embedded HelloJio Voice Assistant has been trained to understand the native Indian speaker who possesses different regional dialects and tonality across India. It can be activated using a wake word, touch, or a dedicated key in Car's steering.
What HelloJio voice assistant can do
HelloJio will offer In-car voice assistance to Indian users, beyond in-vehicle command and control, with dialogs. HelloJio's dialogs provide information about Cricket, Weather, News, Horoscope and many more domains. The user can turn the AC on or off, play songs directly, and even ask for a cricket score with simple voice commands.
MG Comet EV comes with an eSIM which will help in improving vehicle safety as it is integrated during the manufacturing process. It further identifies the vehicle and encrypts communications while the vehicle is in operation.
Gaurav Gupta, deputy managing director, MG Motor India, said, "Technology and innovation are leading the connected car space in the automobile industry. The current trend focuses increasingly on software-driven devices and our current partnership with a tech innovator like Jio in the Smart Mobility space is a step towards establishing MG Motor as a tech leader in the automobile industry. The MGI-Jio partnership will ensure our newly launched MG Comet EV enriches the driving experience for GenZ customers while ensuring safety and In-Car experiences backed by great technology."