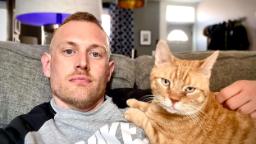 CNN
 — 

Philadelphia journalist and advocate Josh Kruger was shot and killed at his home early Monday morning, according to police.
No weapons were recovered and there have been no arrests, a statement from police says.
Kruger, 39, was shot seven times in the chest and abdomen at his Point Breeze home at around 1:28 a.m., police said. He was pronounced dead at the hospital.
Most recently, Kruger had worked as a journalist covering issues like LGBTQ+ rights, homelessness, HIV and addiction in publications like The Philadelphia Citizen and The Philadelphia Inquirer. One of his most recent stories was a tribute to JoAnne Epps, the president of Temple University, who died in September.
"We are shocked and saddened by Josh's death," said Philadelphia Mayor Jim Kenney in a statement provided to CNN.
"Josh cared deeply about our city and its residents, which was evident both in his public service and in his writing," said the mayor. "His intelligence, creativity, passion, and wit shone bright in everything that he did – and his light was dimmed much too soon. We were exceedingly fortunate to call him a colleague and our prayers are with everyone who knew and loved him."
His work built on his own personal experiences living with HIV and experiencing homelessness, according to his LinkedIn profile. In his profile, he described himself as a "destroyer of stigma and bureaucratic silos" and a "believer in the common good." He also used social media as a platform to write about his own experience surviving addiction and continuing to work with people dealing with addiction in Philadelphia.
Kruger also worked for the City of Philadelphia for five years, according to his website and LinkedIn. He worked with the Department of Public Health as well as the Office of Homeless Services and Office of the Mayor.
In a statement, District Attorney Larry Krasner said Kruger "lifted up the most vulnerable and stigmatized people in our communities – particularly unhoused people living with addiction."
"As an openly queer writer who wrote about his own journey surviving substance use disorder and homelessness, it was encouraging to see Josh join the Kenney administration as a spokesperson for the Office of Homeless Services," Krasner said.
"As with all homicides, we will be in close contact with the Philadelphia Police as they work to identify the person or persons responsible so that they can be held to account in a court of law," the district attorney said.
In 2014 and 2015, Kruger won the Society of Professional Journalists' award for newspaper commentary in Pennsylvania.
Pennsylvania state Sen. Nikil Saval wrote on X he was "sick over this horrible news."
"Josh Kruger fought for housing justice as a public servant and journalist, he had so much more to do," wrote Saval. "Sending love to his family and everyone close to him."
Source link