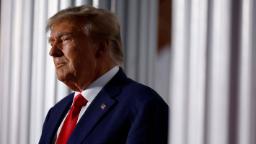 CNN
 — 

A federal judge ordered Friday that the trial in the classified documents case that special counsel Jack Smith brought against former President Donald Trump begin in mid-May 2024.
US District Judge Aileen Cannon said a two-week trial period would begin on May 20.
If that timeline holds, then the trial would fall deep in the 2024 race for the White House, coming amid multiple GOP presidential primaries. It would be a rebuke to Trump and his legal team, who wanted to postpone the trial until after the general election takes place in November 2024.
However, Cannon's order also means that the case will unfold at a far slower speed than what Smith's team was proposing, when it recommended a fast-paced timeline that would start the trial in mid-December of this year. Such a schedule would have a trial wrap up before primary voting gets underway in the 2024 election, where Trump is the leading GOP candidate.
The vast majority of state primaries will be finished by mid-May, although Nebraska, Maryland and West Virginia are set to hold their primary elections on May 14. Oregon votes the following week and a handful of states, including New Jersey, are now scheduled to vote on June 4. During his first presidential run, Trump effectively clinched the nomination at the end of May 2016 – before formally becoming the party's nominee in July at the GOP convention in Cleveland.
While it's likely the nominating process will be essentially decided by May, recent history has plenty examples of the race remaining a delegate fight until early summer.
Trump and his aide, Walt Nauta, were charged in June, with an indictment that alleged the former president unlawfully retained national defense information and that accused both defendants of engaging in obstructive conduct. Both pleaded not guilty.
In her new order, Cannon cited the "voluminous" evidence prosecutors are turning over to the defense as well as the complexities that the classified material at the heart of the case will bring to the proceedings. She also said that the court will be "faced with extensive pre-trial motion practice on a diverse number of legal and factual issues, all in connection with a 38-count indictment."
Nevertheless, she was not convinced by the Trump team's arguments that those issues justified holding off setting a trial date altogether, writing that she did "not see a sufficient basis on this record to postpone entry of a scheduling order."
This is a breaking story and will be updated.
Source link