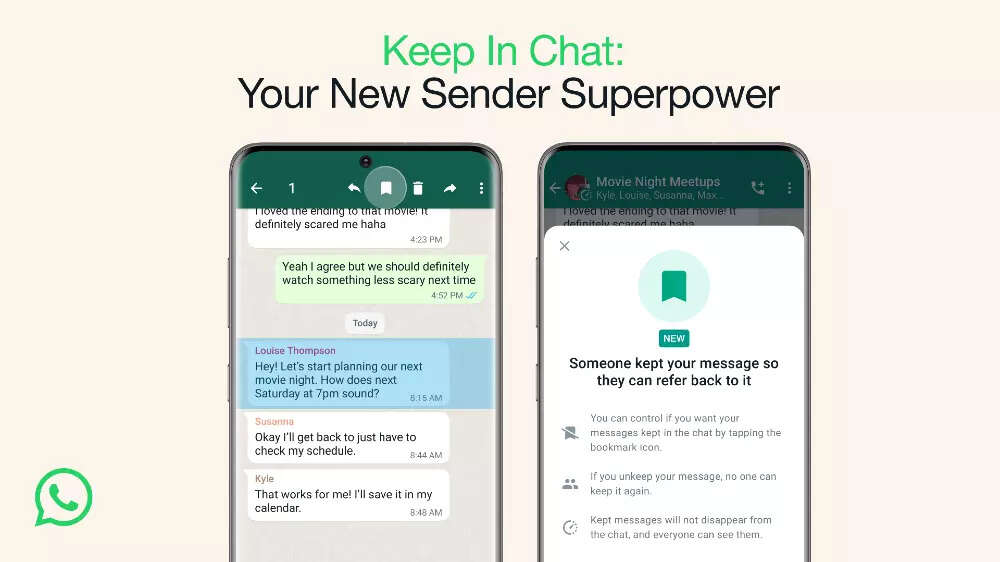 WhatsApp released Disappearing Messages last year expanding the list of privacy-related features on the platform. The company is now refining it by rolling out 'Keep in Chat' feature that will allow users to retain important messages even if Disappearing Messages is enabled.
Why is 'Keep in Chat' important
Enabling disappearing messages allows users to set messages to disappear 24 hours, 7 days, or 90 days after the time they are sent. In the process, some important messages, which you may need to revisit at a later time, also get removed. In order to save those messages, such as an occasional voice note or key piece of information you want to keep, when Disappearing Messages is enabled, users can use the Keep in Chat feature.
"Today we're introducing 'Keep in Chat,' so you can hang on to texts you need for later, with a special superpower for the sender. We believe if you've sent the message, it's your choice whether others in the chat can keep it for later," the company said.
'Keep in Chat' will roll out globally over the next few weeks, the company announced.
How 'Keep in Chat' works
In order to keep a message in a chat, a user can long press a particular message and tap on the save icon option which is available on the top of the screen (besides the 'Delete' icon). Once a user 'keeps' a message, the sender will be notified and will have the ability to veto the decision.
In case the sender has decided that the message can't be kept by others, no one else can keep it and the message will be deleted when the timer expires.
"Anyone in a disappearing message thread can long press on a message to keep it. The sender will be notified if it was saved and can decide if it stays or remains a disappearing message," Mark Zuckerberg, chief executive officer, Meta, which owns Whatsapp, said on his Instagram channel.
This way the sender will have the final say on how the sent messages are protected. If you are the sender and you chose to keep the message, no one else can veto it.
Messages that have been saved on WhatsApp chat will be noted with a bookmark icon and participants in the chat can see these messages, organised by chat, in the Kept Messages folder.