"Consolidation" remained the watchword for the Ukrainian Armed Forces on Saturday following recent modest gains in the southern Zaporizhzhia region, while political figures in Kyiv, as well as US officials, pushed back against suggestions the Ukrainian counteroffensive is moving too slowly.
"The Ukrainian Defense Forces continue to conduct the offensive operation on (the) Melitopol axis, consolidating their positions and conducting counter-battery fire," the military's General Staff wrote in a Saturday update on Facebook. Melitopol is located south of Zaporizhzhia city.
Ukraine has been focusing efforts around the village of Robotyne in recent weeks as it tries to move south toward occupied cities on or near the coast of the Sea of Azov.
An unofficial Telegram channel belonging to Ukraine's 46th Brigade suggested there had been fresh limited Ukrainian gains to the southeast of Robotyne, posting: "There is an extension of the bridgehead along the enemy's defense line in the direction of Verbove. The area of control is being expanded for further actions." 
The channel also reported fighting on higher ground outside the neighboring village of Novoprokopivka.
What Russia says: Russia's Ministry of Defense said Saturday it had repelled four Ukrainian attacks in the area around Robotyne and Verbove. The Russian military blogging site Rybar said Russian forces had put up stiff resistance around the settlement of Verbove. It said Robotyne was now fully under Ukrainian control, though it claimed Kyiv's forces had suffered severe losses in the fighting.
CNN is unable to immediately verify the battlefield claims of either side.  
Pushing back about concerns over counteroffensive: Ukraine's current counteroffensive against Russia's occupying forces has been underway for three months, and there have been growing concerns that it is failing to achieve expected results. 
John Kirby, coordinator for strategic communications at the White House National Security Council, addressed those concerns Friday, saying Ukrainian forces had made "notable progress" in the previous three days, achieving "some success against (the) second line of Russian defenses." 
Those comments were echoed by Ukrainian President Volodymyr Zelensky, who posted on Saturday:
"No matter what anyone says, we are advancing, and that is the most important thing. We are on the move."
In an interview with CNN's Christiane Amanpour in Kyiv Friday, Ukrainian Foreign Minister Dmytro Kuleba also said Ukraine is "not failing" but "moving forward" in its counteroffensive.
The foreign minister added that those criticizing the speed of Ukraine's counteroffensive should consider the soldiers fighting at the heart of it. 
"You just lost two of your buddies. You were almost killed. You crawled one kilometer on your belly demining the field. You sacrificed yourself — you took the damn Russian trench in a fierce fight. And then you read someone saying, 'Oh guys, you're too slow?'" he said. 
"Our partners who are helping us, including the United States, they understand that things are moving in the right direction," he added.
Here's the latest map of control: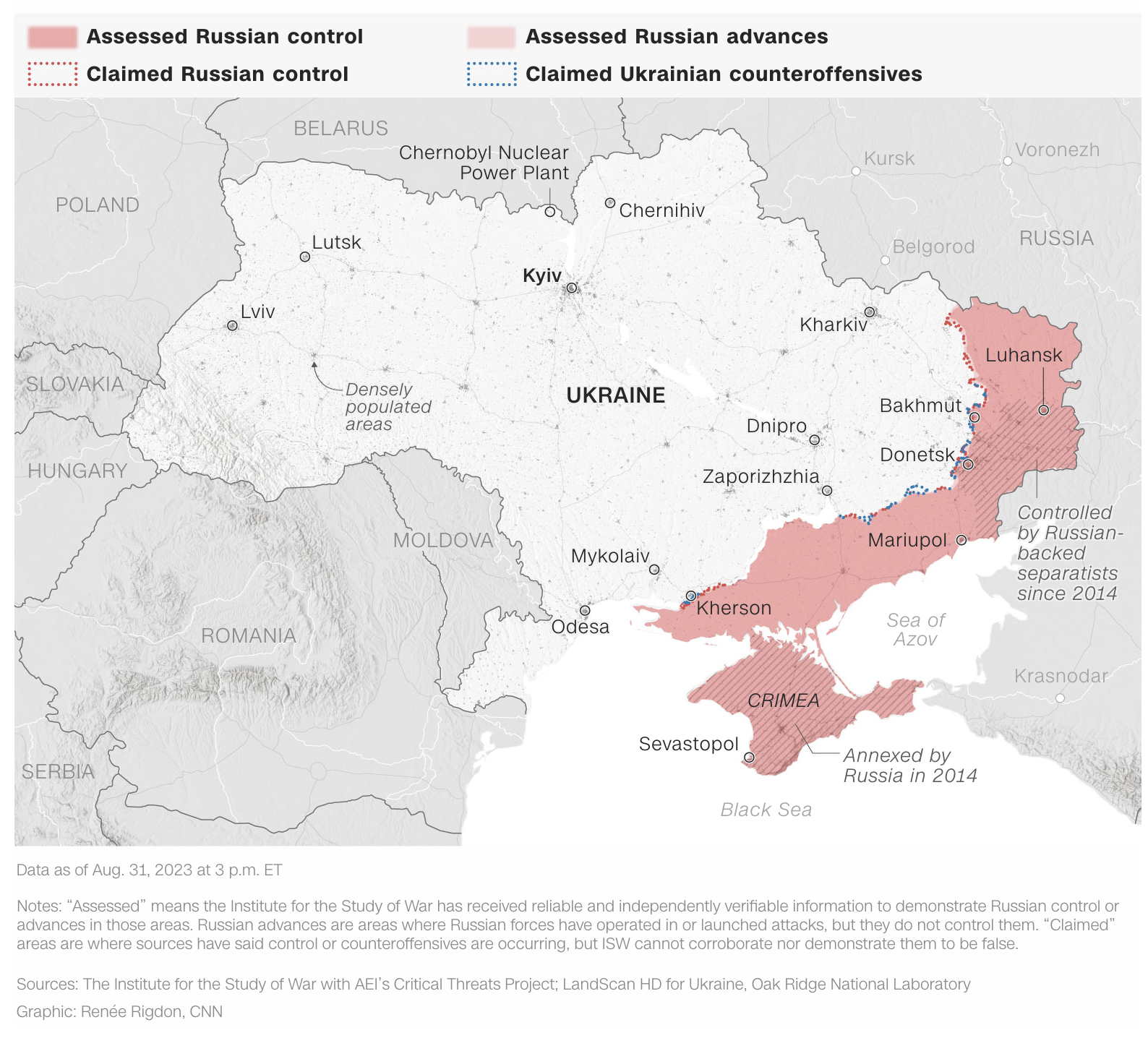 Source link