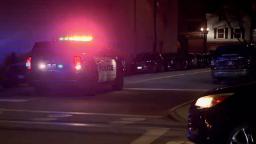 The suspect in the Maine mass shooting is a skilled marksman and outdoorsman who was among the best shooters in his Army Reserve unit, a former colleague in the unit told CNN. 
Robert Card, who police are searching for in connection with the fatal shooting of at least 18 people in Lewiston, Maine, previously reported mental health issues and hearing voices and threatened to shoot up a National Guard base in the state, Maine law enforcement officials said.  
The officials also said Card was reported to have been committed to a mental health facility for two weeks over the summer. 
Card's sister-in-law, Katie O'Neill, said in a brief conversation with CNN Thursday that Card does not have a long history of mental health struggles. 
"This is something that was an acute episode. This is not who he is," O'Neill said. "He is not someone who has had mental health issues for his lifetime or anything like that."  
The 40-year-old Card is a petroleum supply specialist in the Army Reserve and first enlisted in 2002, according to records provided by the Army on Thursday. He has no combat deployments, according to the records.  
Clifford Steeves of Massachusetts told CNN he knew Card when they served in the Army Reserve together, starting in the early 2000s until about a decade ago. He said he never witnessed any concerning behavior from Card. 
"He was a very nice guy — very quiet. He never overused his authority or was mean or rude to other soldiers," Steeves said. "It's really upsetting." 
Steeves said the two served together around the country at different points, including in Wisconsin, Georgia and New York. He said he felt as though he "grew up" with Card because they entered the Army as young men and trained together.  
Steeves said that while "aggressive leadership was very prominent" in the Army, Card stuck out for being a "rational, understanding person" who "led through respect rather than fear." 
Steeves said Card never saw combat but had extensive training, including firearms training and land navigation, "so he would be very comfortable in the woods." He described Card as an "outdoors type of guy" and a skilled marksman who was one of the best shooters in his unit. 
Another former Army Reserve member who served with Card also described him as a "nice guy" who "never had an issue with anybody." The servicemember, who asked to speak anonymously due to the sensitivity of the situation, did not recall Card showing any kind of violent behavior.
Source link