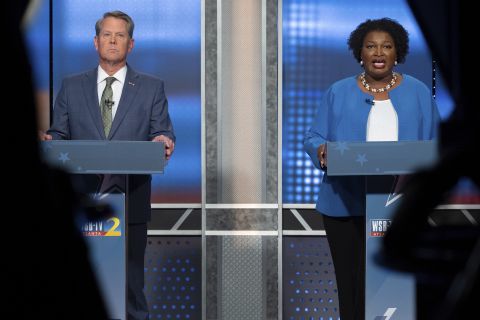 Crime has been a major issue in many midterm races around the country and it quickly became a flashpoint between Gov. Brian Kemp and his Democratic opponent Stacey Abrams in Sunday's gubernatorial debate.
When the moderator noted that Atlanta is experiencing record violent crime, Kemp insisted that he was out in front addressing that issue – identifying street gangs and cartels as a problem before others were paying attention.
But he soon pivoted to criticize Abrams as an ally of progressive groups who sought to "defund the police" following the death of George Floyd, who was killed by a Minneapolis police officer in 2020.
"We're not the local police department," Kemp said. "I'm not the mayor. I'm the governor."
"Go check the record, because Ms. Abrams on CNN got asked the question, would she defund the police? And she said, yes, we have to reallocate resources. That means defunding the police," Kemp said.
But Abrams said Kemp was lying about her record. She noted that under his leadership, violent crime and gun violence have gone up in Georgia.
"Guns are the number one killer of our children. We have the ninth highest gun violence rate in the nation. Family violence with guns has gone up 18% under this governor, and his response was to weaken gun laws in the state of Georgia," she said.
Abrams added that Kemp was distorting her record on police funding.
"I believe in public safety. I did not say, and nor do I believe, in defunding the police," she said. "He is lying again. And I've never said that. I believe in the funding the police. I believe in public safety and accountability."
Abrams has proposed providing $25 million in state grants to local agencies for pay increases for law enforcement. 
In June, Kemp joined Atlanta Mayor Andre Dickens for a ribbon cutting ceremony at a new police precinct in Atlanta's well-to-do community of Buckhead.
Kemp at the time touted state and local law enforcement working together to combat crime in Atlanta.
"Public safety has no political boundaries," Kemp said. "Whether you're Republican, you're Democrat or whether you don't care. You want your neighborhood to be safe, you want your streets to be safe and that's what today is all about: fulfilling the No. 1 duty of government by protecting its citizens."
Source link