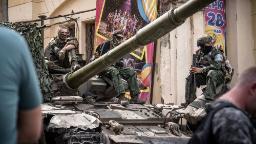 Senior Ukrainian officials and generals alike continue to describe tough fighting and limited progress on the battlefield as they look to drive Russian forces out of the country and turn the tide of the war.
Just days after Ukraine's key partners met at the NATO summit in Lithuania, pledging even deeper security ties — albeit without specifying any timetable for Ukraine's potential membership in the alliance — Kyiv insists it does not feel under pressure to deliver quick results. 
Counteroffensive is "slow": Speaking to journalists Friday in Kyiv following his attendance at the NATO summit, the head of the Office of the President of Ukraine, Andriy Yermak, admitted the counteroffensive — seen as being underway since the start of June — was "hard work."
"It's not going that fast; it is slow," he said, adding that it is important Ukrainians are told the truth about developments on the ground.
Asked by CNN if Ukraine's Western allies were looking for quick results, Yermak said there was no such pressure from partner countries. Instead, he said, they just ask: "What else do you need to expedite victory?"
Near Bakhmut: One of the more encouraging areas for Ukraine's offensive appears to be around the battered city of Bakhmut in the east, though without any reports of significant breakthroughs. 
"The Bakhmut direction remains one where our defense forces have the initiative. Our defense forces are pushing the enemy on the southern and northern flanks, storming their positions," military spokesperson Serhii Cherevatyi said on Ukrainian television Saturday, adding that "the enemy is putting up fierce resistance."
Mapping by DeepStateMap.Live, which updates changes on the ground daily and is widely used by analysts, has suggested almost no shifts in the front line around the city for many days, even as Ukrainian forces continue efforts to regain villages like Klishchiivka to the southwest and Berhivka to the northwest, where fighting has raged for weeks.
Further to the north, in the roughly 100-kilometer (about 62-mile) stretch of land between the towns of Lyman and Kupyansk, Cherevatyi said Russian forces were "actively attacking."
The area was held by Russia for almost six months last year before being recaptured in a Ukrainian offensive in October; in recent weeks, it has become a renewed focus of Russian firepower.
"This direction is the leader in the (Russian) use of artillery, mortars and multiple rocket launchers shelling. The enemy carried out 570 attacks and 11 air raids over the last day," Cherevatyi said.
What Russian accounts say: According to Russian military bloggers, one of the areas where Moscow's forces have been concentrating their efforts is around the village of Novoselivske in northeastern Ukraine. On Telegram, the popular Rybar account described Russian advances through forested areas to the south of the village, as well as the digging of a new defensive line close to a nearby railway line.
It is not possible for CNN to immediately verify claims of territorial gains or losses by either side. 
Source link