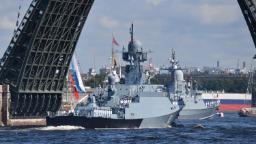 Multiple explosions have been reported on critical road bridges linking Crimea with parts of the Russian-occupied Kherson region in Ukraine, according to Russian-installed officials.
A bridge connecting the Arabat Spit, which is located on Crimea's east coast, and the Ukrainian city of Henichesk was among the reported targets. Explosions have been heard in the city, according to an unofficial Telegram channel, RIA Melitopol.
Strikes also hit the Chonhar bridge, which links the Kherson region and Crimea, said Vladimir Rogov, a member of the Russian-installed government in Zaporizhzhia.
"A total of three or four hits are reported. The extent of the damage is still unknown," he said.
The Russian-appointed leader of occupied Kherson, Vladimir Saldo, said Ukraine fired 12 missiles at the Chonhar bridge and nine had been shot down.
Saldo claimed Kyiv used advanced British Storm Shadow missiles in the attack. He also said the strikes hit a village school, and that one civilian who was on the bridge at the time of the attack was wounded.
Saldo said officials were still sorting through details of the attack and the extent of the damage to the bridge, a gas pipeline and nearby towns.
The Russian-appointed head of Crimea, Sergey Aksyonov, also acknowledged the attack, saying on Telegram that a bridge for cars and trucks was damaged, and "repair work is already beginning."
CNN cannot independently verify the Russian officials' claims, and Ukraine has not immediately commented on the attack.
Source link