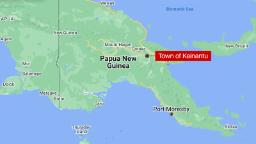 The quake, with a depth of 90 kilometers (roughly 56 miles), struck near the town of Kainantu Sunday morning.
The town has a population of roughly 8,500 people, the agency reported.
The US National Tsunami Warning Center had initially said hazardous tsunami waves were possible within 1,000 kilometers (roughly 621 miles) along the coasts of Papua New Guinea and Indonesia, but later said there was no longer was a threat.
CORRECTION: An earlier version of this story quoted the Australian Red Cross as saying at least 16 people had been killed. The Red Cross has confirmed that death toll is incorrect, and related to a statement concerning a previous earthquake in Papua New Guinea that was mistakenly circulated.
Source link