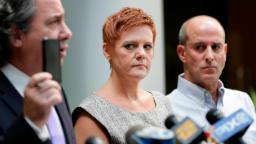 Editor's Note: If you or someone you know is struggling with suicidal thoughts or mental health matters, please call the National Suicide Prevention Lifeline at 988 (or 800-273-8255) to connect with a trained counselor or visit the NSPL site.


CNN
 — 

A New Jersey school district has agreed to pay $9.1 million to the family of a girl who died by suicide after she was bullied at school, the family's attorney said.
The settlement comes after Diane and Seth Grossman sued Rockaway Township School District in 2018, claiming that, despite repeated complaints, Copeland Middle School administrators did not do enough to prevent their daughter's death.
Twelve-year-old Mallory Grossman took her own life in June 2017 after being bullied in school and cyberbullied by classmates throughout the school year through text and Snapchat messages, according to the lawsuit filed in New Jersey Superior Court.
The Rockaway Township School District superintendent told CNN the district had no comment on the settlement, which was reached in court Wednesday.
It is the largest bullying settlement in the country, according to Bruce Nagel, an attorney for the Grossman family. The size of the settlement "speaks volumes with regard to the admission and the responsibility of the schools," he told CNN.
"This settlement should send a strong signal to schools around the country that bullying is an epidemic and schools have a responsibility to protect our children," Nagel said.
"Seth and I are satisfied with the settlement, ready to put this part behind us and move forward, continuing to lend our voice to the epidemic that is stealing our children's future," Dianne Grossman said in a statement. "We hope all schools, (Boards of Education) and administrators will take a look at their current policies & make the necessary changes to protect all students, as it pertains to bullying and cyberbullying."
Schools can take steps toward meaningful change by removing access to phones during school hours and making it clear to parents how to appropriately report their concerns, Grossman said Monday on "CNN This Morning."
"Schools get caught up – is it bullying? Is it not bullying?" she said. "In our family, we don't care what you call it. We just want the teasing, the harassment, the intimidation, the exclusion – we wanted all of that behavior to stop."
Seth Grossman remembered his daughter as a lover of the outdoors, sports, cheer and gymnastics. "She excelled at it. It was kind of her safe place," he said Monday, adding she also helped raise money for a summer camp for kids with cancer.
"She made her mark in her short 12 years," he said.
The issue of bullying in schools has taken on a new dynamic since the rise of social media, experts say.
"Before social media, there might have been an unpleasant interaction at school and that's mostly where it stops," Nikki Pagano, a licensed clinical social worker in Charlotte, North Carolina, previously told CNN. "Now, that interaction carries over to home and is inescapable. Instead of one person making you feel bad, there may be something posted online and peers may be seeing or even 'liking' this post."
New Jersey Gov. Phil Murphy has taken measures to address bullying concerns in schools. In January 2022 he signed a measure, dubbed "Mallory's Law," requiring school districts to provide specific consequences in anti-bullying policies for students harassing or bullying a classmate, according to the New Jersey state legislature.
"From the minute that Mallory passed away, we hit the ground running and we started a nonprofit. I travel to schools I tell Mallory's story," Dianne Grossman said. "If the schools don't get it, then maybe the parents and the kids will."
Grossman said she hopes Mallory's story will help other children and their parents.
"She's telling all of the kids – and particularly the kids that are being bullied – that you do have people in your life that love you, and self-harm is no answer to any issue that you're having."
Source link