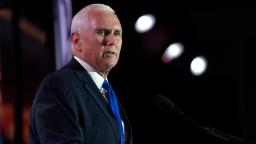 CNN
 — 

Former Vice President Mike Pence said Sunday he wasn't aware of any "broad-based effort" by Donald Trump to declassify documents before leaving the White House.
"There is a process that the White House goes through to declassify materials. I'm aware of that occurring on several occasions over the course of our four years. But I don't have any knowledge of any broad-based directive from the president," Pence told ABC News Sunday.
"But that doesn't mean it didn't occur. I just – it's not something that I ever heard about," he added.
Trump was indicted on seven counts in June as part of the Justice Department's probe into the former president's handling of classified documents that were brought to his Mar-a-Lago Florida resort after he left the White House in 2021 – as well as possible obstruction of the investigation and government efforts to retrieve the material.
Classified records are supposed to be stored in secure locations. And under the Presidential Records Act, White House records are supposed to go to the National Archives when an administration ends.
Trump has repeatedly denied any wrongdoing.
Since announcing his White House bid earlier this year, Pence has rebuked Trump for his role in the January 6, 2021, attack on the US Capitol, but he's been careful about extending his criticism beyond that.
Pence hasn't ruled out pardoning the former president and he told CNN late last month that while Trump's actions on January 6 were reckless, he's not yet convinced that they were criminal.
Asked what his strategy is going to be on the debate stage Wednesday, Pence said Sunday: "I'm just going to be me."
"I feel like I've been preparing for this first Republican presidential debate my whole life."
Source link