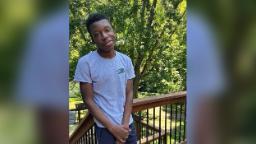 CNN
 — 

Ralph Yarl, the Missouri teen who was shot after ringing the wrong doorbell, has spoken out for the first time in an interview on ABC's "Good Morning America."
"I'm just a kid and not larger than life because this happened to me," Ralph told Robin Roberts in the interview that aired Tuesday.
"I'm just gonna keep doing all the stuff that makes me happy. And just living my life the best I can, and not let this bother me."
Ralph was shot in the head and arm when he went to the wrong house in his Kansas City neighborhood to pick up his siblings on April 13. He was 16 at the time.
The incident was among a string of shootings where the victims appear to have been in the wrong place at the wrong time in a nation plagued by gun violence.
"Don't come here ever again," were the only words Andrew Lester, the 84-year-old White man accused of shooting the Black teen, said to him before he fired his gun, Ralph told Roberts. Lester is facing two felony charges in the shooting.
Lester said he thought Ralph was trying to break into the home and he was "scared to death" due to the boy's size, according to the probable cause document obtained by CNN. Ralph's aunt told CNN her nephew is shorter than 6 feet and probably under 170 pounds.
Since the shooting, Ralph said he has experienced headaches, trouble sleeping and difficulty concentrating.
"You're looking at a kid who took the SAT when he was in the eighth grade and now his brain has slowed," Ralph's mother Cleo Nagbe told Roberts. "Physically he looks fine, but there is a lot that has been taken from him."
Ralph is past any feelings of hatred for Lester, he said, but believes he should face the consequences of his actions. "Justice is just the rule of the law, regardless of race, ethnicity and age," he said.
The conditions of Lester's $200,000 bond prohibit him from having any type of weapon or having direct or indirect contact with Ralph or his family, according to Clay County Sheriff's Office spokesperson Sarah Boyd.
Ralph's shooting fueled protests in Kansas City and spurred a "Unity Walk" in support of the teen by an estimated 1,500 students at his school.
A Missouri judge granted a motion in June to seal evidence in the criminal case against Lester after his attorneys argued the media coverage of the case would hinder his ability to get a fair hearing.
Source link