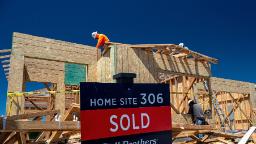 CNN
 — 

New home sales dropped in June from the month before, even as buyers continued to rely on new construction as an alternative to the historically low supply of existing homes for sale.
Sales of newly constructed homes were down 2.5% in June from May, although they were up 23.8% from a year ago, according to a joint report from the US Department of Housing and Urban Development and the US Census Bureau.
June's month-over-month pull back is further evidence that while the new construction market is being boosted by the exceptionally low inventory of existing homes for sale, affordability concerns remain. Homeowners with ultra-low mortgage rates are reluctant to sell and buy another home at a much higher mortgage rate. Sales of existing homes have been down for the past few months, while new home sales have been rising.
Sales of new single‐family houses were at a seasonally adjusted annual rate of 697,000, down from a revised 715,000 in May. Sales were higher than last June's estimated rate of 563,000.
Mortgage rates reached as high as 6.79% at the beginning of June, according to Freddie Mac, as uncertainty moved through the financial industry due to the debt ceiling standoff. This increase in mortgage rates cooled mortgage applications.
In some good news for buyers, prices of new homes dropped from May, the report showed. The median price for a new home dropped to $415,400 in June, down from $416,300 the previous month.
This is a developing story and will be updated.
Source link