Editor's Note: A version of this story first appeared in CNN's Meanwhile in the Middle East newsletter, a three-times-a-week look inside the region's biggest stories. Sign up here.

Abu Dhabi
CNN
 — 

At a major international defense exhibition in the United Arab Emirates this week, tucked away in a distant corner, a large purple structure featuring Russia's name has been erected far from the sight of most visitors.
The biennial International Defence Exhibition (IDEX) in the UAE capital Abu Dhabi is the largest defense conference in the Middle East, with the participation of over 1,300 exhibitors from 65 countries.
But what makes it stand out from other major arms fairs is its participants. Invitees include military officials and manufacturers from countries that aren't friendly with each other. Delegates from China and the United States, Russia and Ukraine, India and Pakistan, and Israel and Arab states are present at the same event.
Eight Russian arms manufacturing firms were exhibiting at the fair, including Kalashnikov Group and Rosoboronexport. In a statement to CNN, IDEX said it was "proud that this year's edition is the largest in the event's 30-year history."
Russia has participated in the exhibition before, but this year, its presence is particularly sensitive.
One year since Russia launched its war on Ukraine, the UAE's balancing act at IDEX demonstrates a wider policy across the Middle East of discreet neutrality, as well as the United States' inability to sway its Middle Eastern allies to join the Western camp.
"It has been clear since the start of the Russian invasion a year ago that America's regional partners in the Middle East… were not going to take sides or get involved in the great power competition and strategic rivalry that has taken on a harder edge since 2022," said Kristian Ulrichsen, a political scientist at Rice University's Baker Institute in Houston, Texas.
"So, to that extent the US has failed in getting its regional partners to take sides," he said.
Energy-rich Gulf states have benefited from the rise in prices brought by the war in Ukraine, which has added tens of billions of dollars to their coffers. All six members of the Gulf Cooperation Council, which includes Saudi Arabia, Oman, the UAE, Kuwait, Qatar and Bahrain, registered budget surpluses in 2022 for the first time in eight years. Saudi Arabia's alliance with Russia in the OPEC oil cartel has also allowed it to have better control over global crude prices, in defiance of the US.
In the UAE, the real estate market in Dubai boomed as Russians flocked into the regional business hub, buying property and starting businesses.
Russians also became Turkey's top foreign buyers of real estate last year, according to the Turkish news outlet Daily Sabah, citing data by the Turkish Statistical Institute.
"So far, it is very clear to them (Middle East states) a year after the isolation of Russia that picking sides would not be in their interest and so they still very much refuse to do so," said Cinzia Bianco, a research fellow at the European Council on Foreign Relations.
Most Gulf states have remained ambiguous and "cherish that strategic ambiguity," she said at an event hosted by the Gulf International Forum. They have been "hedging since day one of the war," she added.
But the US has indicated of late that its patience with its allies is running thin, saying the days of doing business with both Russia and the West are over.
The Biden administration has been ramping up pressure on its Middle East partners to choose between Russia and the West, singling out the UAE and Turkey in particular.
A US Treasury Department delegation visited both countries late last month to warn them against helping Russia evade sanctions, threatening to block their access to G7 markets they fail to comply.
Following the visit, the UAE said that it had discussed measures of combatting money laundering and the financing of terrorism with its US partner, and that "both governments have witnessed significant advances."
After meeting US Secretary of State Antony Blinken in Ankara on Monday, Turkish Foreign Minister Mevlut Cavusoglu said that while his government doesn't partake in "unilateral sanctions," it will not allow US and European sanctions to be violated via Turkey.
On Tuesday, Deputy Secretary of the Treasury Wally Adeyemo acknowledged that Russia's economic data "appears to be better than many expected early in the conflict," but pledged to double down on efforts to get other states to comply with sanctions.
"We will force those that fail to implement our sanctions and export controls to choose between their economic ties with our coalition of countries – representing more than half of the world's GDP – or providing material support to Russia, an economy that is becoming more isolated every day," he said.
Mohammed Baharoon, director of the Dubai Public Policy Research Center, known as B'huth, said that polarized language of West-versus-Russia is problematic and "dangerous in the long run."
"There's a new wall being erected, and I think this is the real problem," he told CNN, adding that increasing US pressure on Gulf states will not help Russia, the US or the UAE.
"Until now, the position of the UAE, the position of Saudi Arabia and others, has been to find a compromise, to find mediation efforts between the two countries to bring peace," he said.
Ulrichsen of Rice University said that the UAE is likely watching American language on sanctions evasion closely in case it materializes into action.
At the defense show in Abu Dhabi, the Russian stall was busy, with visitors in traditional Arab clothing seen taking interest in what the Russian arms industry had to offer. CNN approached delegations from three different Russian firms, as well as an organizer of the Russian pavilion, but all refused to speak.
Rosoboronexport, a firm that makes drones and missiles, however, said in a press release last week that it is "busy working out proposals for the forms of partnership that could be of immediate interest to Middle East nations."
"Middle East countries are Russia's traditional and important partners," its director general, Alexander Mikheev, was cited as saying.
The ECFR's Bianco, however, cast doubt over Middle Eastern interest in Russian weapons.
"It has become clear in several (Gulf) capitals that Russia's invasion of Ukraine has exposed the lack of quality in the performance of Russian weapons, and the low levels of the Russian defense industry," she said, adding that Gulf states would now be even more reliant on NATO countries for defense procurement.
This story has been updated. A previous version of the story incorrectly stated that Russian arms manufacturers were not on the list of exhibitors.
Two weeks after a 7.8 magnitude earthquake devastated parts of Turkey and Syria, a 6.3 magnitude aftershock struck Turkey's southern Hatay province, near the Syrian border, on Monday.
The epicenter was in the Defne district, according to the Turkish Emergency Coordination Center SAKOM. Ninety aftershocks followed, the largest of which was recorded at 5.8. At least six people were killed and hundreds left injured.
The death toll in Syria and Turkey from the February 6 quake stands at 48,151 as of Tuesday.
Here's the latest:
Turkey launched a temporary economic relief plan and banned layoffs in the ten provinces hit by the earthquake in an effort to protect workers and businesses from the impacts of the disaster, officials said on Wednesday. Workplaces that are "collapsed, urgently need to be demolished, (or are) severely or moderately damaged" would receive support to partially cover workers' wages.

Almost 900,000 people are living in tents and containers in Turkey, President Recep Tayyip Erdogan said on Tuesday. Almost 140,000 buildings have collapsed, should be demolished immediately or are heavily damaged, Erdogan said, adding that 115,000 people have been injured in the country.

There are 213 unidentified children in Turkey following the earthquake, according to Turkey's Family and Social Service Ministry. A total of 1,858 unaccompanied children who were removed from the rubble were registered. Out of those, 1,645 children were identified.
Iranian foundation offers land to Salman Rushdie's attacker
An Iranian foundation has praised the man who attacked novelist Salman Rushdie last year, leaving him severely injured, and said it will reward him with 1,000 square meters of agricultural land, Reuters cited Iran's state TV as saying through its Telegram channel on Tuesday. "We sincerely thank the brave action of the young American who made Muslims happy by blinding one of Rushdie's eyes and disabling one of his hands," said Mohammad Esmail Zarei, secretary of the Foundation to Implement Imam Khomeini's Fatwas.
Background: Rushdie, 75, lost an eye and the use of one hand following the assault by a 24-year-old Muslim American from New Jersey on the stage of a literary event held in New York in August. The attack came 33 years after Ayatollah Khomeini, then Iran's supreme leader, issued a fatwa (edict) calling on Muslims to assassinate Rushdie a few months after "The Satanic Verses" was published. Some Muslims saw passages in the novel as blasphemous.
Why it matters: Iran's position on the fatwa has fluctuated over the years. While the pro-reform government of President Mohammad Khatami distanced itself from it in the late 1990s, the multimillion-dollar bounty hanging over Rushdie's head kept growing and the fatwa was never lifted. In 2019, Khomeini's successor, Supreme Leader Ayatollah Ali Khamenei, said the fatwa was "irrevocable."
UN Security Council issues statement expressing 'concern' about Israeli settlements
The United Nations Security Council issued a presidential statement on Monday expressing "concern and dismay" with the February 12 decision by Israel to legalize nine settlement outposts in the occupied West Bank. The statement avoided the language of a UAE-led draft resolution that would have reportedly called for the ceasing of settlement activity in the West Bank.
Background: A Security Council presidential statement requires consensus from its 15 members. A resolution calling for an Israeli settlement freeze would have needed nine yes votes and no vetoes from the five permanent members. It risked getting rejected by the US, which often strikes down resolutions critical of Israel. Outposts are existing Jewish settlements in the West Bank that have been set up without Israeli government approval.
Why it matters: Security Council resolutions are binding, while presidential statements aren't. The UAE decided to abandon the resolution in favor of a presidential statement "due to the positive outcome of the talks between the US and Palestine," a diplomat told CNN earlier.
Ten Palestinians killed in rare Israeli daylight operation in West Bank
At least 10 Palestinians, including two Islamic Jihad commanders, were killed Wednesday in a major Israeli military operation in the West Bank that also left more than 100 injured, Palestinian officials said. The Palestinian Ministry of Health said those killed included a man who was 61 and another who was 72. The ministry added that 104 Palestinians were injured "with live ammunition… six of them in critical condition." Israeli authorities said the military was targeting three suspects "planning attacks in the immediate future."
Background: Israeli raids in the West Bank usually occur overnight. The last time the military conducted a daylight operation, it said it did so because of an immediate threat. Israel Army Radio reported that the raid was to stop an "imminent attack."
Why it matters: Tensions between Palestinians and Israelis have been boiling in recent weeks. The operation brings the number of Palestinians killed by Israeli forces this year to 61. That figure includes people shot as they attacked Israelis, militants targeted in raids, people who clashed with Israeli forces during raids, and bystanders, CNN records show. Eleven Israelis have been killed in Palestinian attacks this year: seven in a shooting near a synagogue, three in a car ramming attack, and a border police officer who was stabbed by a teenager and then shot by friendly fire from a civilian security guard.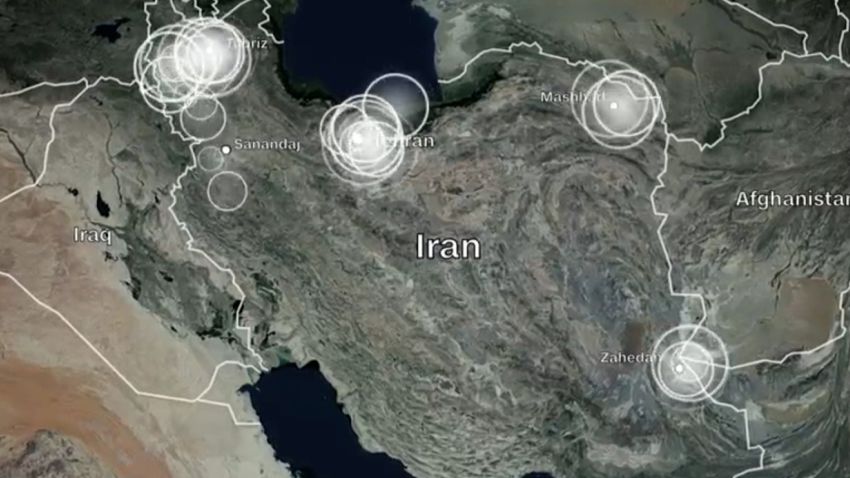 CNN special report uncovers dozens of 'black sites' used for torturing protesters
A CNN investigation has uncovered a network of black sites used by Iranian authorities to perpetrate the worst torture and abuses on an industrial scale. Cross-referencing witness testimony and satellite imagery, the CNN International investigations team has exposed at least two dozen sites, where due process is suspended and regime operatives have free rein.
Read the article here.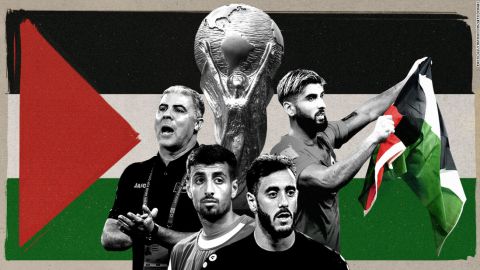 The Palestinian team has never taken part in a World Cup tournament, but the territory's presence was very much in evidence at Qatar 2022.
Fans interrupted press interviews shouting "free Palestine," while some Moroccan players held up the Palestinian flag after their historic quarterfinal win against Portugal, making the Atlas Lions the first African and Arab team to reach the semifinals.
The Israeli-Palestinian conflict has been a constant source of tension in the Middle East since Israel's creation in 1948, only made more tense after its capture of the West Bank, Gaza and East Jerusalem in 1967.
"The Israeli occupation doesn't just affect me, but affects … Palestinian sports in general," the Palestinian team's goalkeeper Rami Hamadeh told CNN Sports.
"Whether it's players being arrested or killed. Regardless of these restrictions, we are able to achieve our goals and perform well, and this shows in our 2023 AFC Asian Cup qualification."
While the FIFA World Cup 2026 is still three years away, the Palestinian national team is confident the West Asian and Asian Cups may help lead to a FIFA 2026 qualification.
"There's a full plan to prepare our national team for the upcoming competitions, including the Asia Cup in January 2024 as well as the World Cup qualifications," said General Secretary Abu Hilal.
Read more about the Palestinian soccer team's World Cup ambitions here.
By Dalya Al Masri
Source link