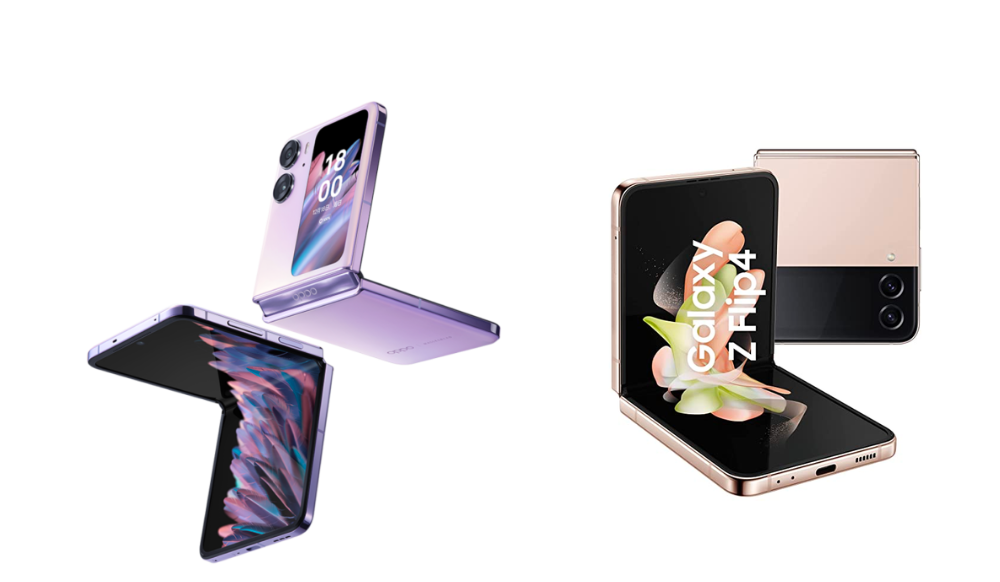 There are not many flip-style foldables available around, except Samsung's Galaxy Z Folds and Z Flips (and Moto's Razr if anyone remembers it). But things have been changing as more and more manufacturers are entering the segment to take on Samsung. And one such brand is Oppo, which has brought its flip-style foldable — the Find N2 Flip outside of China to international waters. Let us compare the two — Oppo Find N2 Flip vs Samsung Galaxy Z Flip4.
Oppo Find N2 Flip vs
Samsung
Galaxy Z Flip4: Design
As the name implies, the Find N2 Flip and Galaxy Z Flip4 are clamshell-style foldable, reminiscent of the 'flip' phones from days ago. But, the two phones take a different approach in how they fold or flip.
Unlike the Galaxy Z Flip4, which is infamous for its crease and no-gap design even after many iterations, the Find N2 Flip has an almost invisible crease, which is the result of Oppo's Flexion hinge, leaving no gap whatsoever when closed.
Oppo Find N2 Flip vs Samsung Galaxy Z Flip4
: Display
At 3.26 inches diagonally, the cover display of the Find N2 Flip is much bigger than the Galaxy's 1.9-inch display on the outside. While the Z Flip 4's external display features small widgets displaying useful information, the one on the Find N2 Flip is a miniature phone screen.
The larger cover display on the Find N2 Flip allows for better visibility of camera previews, ability to reply to messages, among other basic functions. In contrast, Samsung's smaller external display is primarily used for quickly checking the weather, calendar, and notifications but is not well-suited for interacting because it is so small.
The Oppo and Samsung phones measure the same, with the Find N2 Flip having a 21:9 ratio 6.8-inch screen and Samsung having 6.7 inches screen but with a narrower 22:9 ratio. Both feature flexible AMOLED screens with fullHD+ resolution and up to 120Hz refresh rates. The Oppo has a brighter peak of 1600 nits, while Samsung peaks at 1200 nits. Both are compatible with HDR10+ content.
The Oppo's display folds in a way that makes the crease on the inside less visible, potentially providing a better visual experience.
Oppo Find N2 Flip vs Samsung Galaxy Z Flip4
: Performance
Both phones have high-end chipsets, with the Oppo featuring the MediaTek Dimensity 9000+ processor and Samsung featuring the Snapdragon 8+ Gen 1 chipset. While the Galaxy comes in 128GB, 256GB, and 512GB storage configurations, Oppo has only one variant to offer — 256GB.
The Find N2 Flip packs in a 4,200mAH battery, which is much larger than the 3,700mAH battery inside the Galaxy Z Flip4, and nearly the same as what Samsung's bigger foldable offers.
Furthermore, Oppo's 44W SuperVOOC charging allows for faster charging than Samsung's 25W charging. But, Samsung's Z Flip 4 offers the convenience of wireless charging, which is not available with the Oppo phone.
The Galaxy Z Flip 4 initially came with Android 12 but has since upgraded to Android 13. In contrast, the Oppo Find N2 Flip comes with Android 13 pre-installed.
While the two phones have a similar software support coverage — 4 years of major Android updates and 5 years of security patches, Oppo's Find N2 Flip will benefit from a year more of Android update because it comes months after the Flip.
Oppo Find N2 Flip vs Samsung Galaxy Z Flip4
: Camera
The two phones – Find N2 Flip and Galaxy Z Flip4 – have a dual camera setup, but their configurations are different. While the Find N2 stacks a 50MP main and an 8MP ultrawide camera, the Flip4 has a pair of 12MP cameras.
Oppo has collaborated with the Swedish camera manufacturer Hasselblad to tune the cameras on the Find N2 Flip, which should offer consistent colour processing.
In terms of video recording capabilities, the Find N2 Flip's camera can capture up to 4K resolution at 30 frames per second and 1080p resolution at 60 frames per second. On the other hand, Samsung's Z Flip 4 offers more versatile video recording options, with the ability to record at up to 4K resolution and 60 frames per second or 1080p resolution up to 240 frames per second for super slow-motion recording.
Tucked inside the cover display, the Find N2 Flip has a 32MP camera, while the Flip4 has a 10MP camera for selfies.
Oppo Find N2 Flip vs Samsung Galaxy Z Flip4
: Price
While the Find N2 Flip has been launched globally, there is no word how much it will cost in India. However, in the UK, it comes at £849 (around Rs 85,000). Meanwhile, the Galaxy Z Flip4 starts at Rs 89,999.