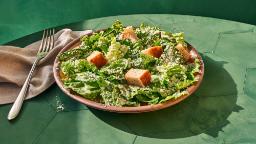 New York
CNN
 — 

Men, apparently, can't stop thinking about the Roman Empire. Panera Bread fans can't stop thinking about their broccoli cheddar soup.
Now, the two are coming together with the chain selling a "Roman Empire" menu, which is a cheeky response to the viral TikTok trend. Although the menu items wouldn't likely be found in any Roman-era restaurant, they are a collection of Panera's iconic foods that it says fans can't stop thinking about, including macaroni and cheese, cinnamon crunch bagel and, of course, a Caesar salad.
For those unfamiliar, the "Roman Empire" trend originated a few weeks ago on social media in which women ask their husbands or boyfriends how often they thought about the legendary era, with a surprising number of them claiming to think about the ancient time period daily to multiple times a week. Panera thinks the foods on this menu are its most memorable.
Panera is just one of several chain restaurants that have been quick to capitalize on TikTok trends to drive sales and publicity. "Panera gets it … there are always things that you can't stop thinking about," the chain said as it announced the online-only menu available beginning Tuesday.
Many of the eight items on the special menu have been staples since its inception in 1987, just slightly younger than the Roman Empire itself. It's an easy way for chains to garner buzz and (often, younger) customers without introducing a new menu item.
In July, Popeyes sold a "girl dinner" menu, which consisted of a variety of sides that makes a meal. The #girldinner phenomenon, which blew up on TikTok, was originally posted by user Olivia Maher and featured a spread of grapes, cornichons, bread and cheese, not Cajun rice.
Last year, the Cheesecake Factory sold a version of its Caesar salad that switched out grilled chicken for fried chicken with caramelized onions, thus giving the TikTok-famous "Louisiana Chicken Caesar Salad" a spot on its menus for a few months.
Also in 2022, McDonald's briefly sold four menu "hacks" of its sandwiches that were trending on TikTok. One example was the "Land, Air and Sea" sandwich that combined a Big Mac, chicken and a Filet-o-Fish on one bun.
In 2020, Dunkin' partnered with TikTok star Charli D'Amelio for an iced coffee drink called "The Charli" in 2020. That gambit paid off: When the Charli promotion launched, Dunkin' hit a record for daily active app users.
Source link