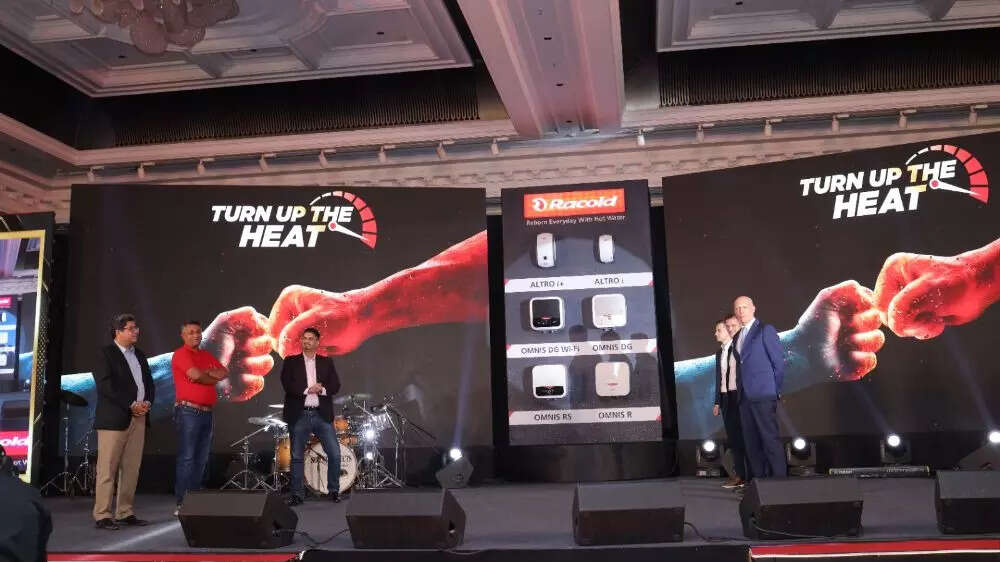 Domestic home appliance brand Racold has expanded its product portfolio with the launch of the premium range of water heaters. The company has intrdocuced the 2023 editions of the new Omnis and Altro ranges of water heaters. This new range of water heaters is designed in Italy by renowned designer Umberto Palermo. The company claims that the latest designs will "elevate and complement the interiors of your urban bath spaces". With these offerings, Racold's promises to offer more innovative, modern and energy-efficient water heating solutions.
The newly unveiled water heaters includes innovative features and solutions. These heaters are designed to cater to the diverse requirements and evolving preferences of customers. Racold also claims that these heaters are built to ensure convenience, safety and efficiency.
Omnis 2023: Premium range of storage geysers
Omnis DG Wi-Fi:
This water heater is available in black colour and comes in two capacity options — 15 and 25 liters. Omnis DG WiFi comes with the Voice Control feature, which allows users to interact with and control water heaters using Alexa or Google Assistant with the help of voice commands.
The other notable feature of Omnis DG WiFi is its artificial intelligence-based ECO functionality, which offers reduced energy consumption. Furthermore, users can access real-time notifications and monitor energy consumption through the built-in Wi-Fi control feature, accessible via the Racold Net app.
Omnis DG:
Omnis DG is available in two-colour options, namely Sandstorm Gold and Black. This model comes in different capacities of 10, 15, and 25 liters.
Some of its notable features of this water heater include a digital display with touch control and advanced microprocessor-based auto-power-off and auto-diagnosis functionalities. Its industry-first silver ion technology effectively prevents the growth of bacteria, providing safe and healthy hot water every time.
The auto-off functionality allows users to pre-set a timer to switch off the water heater automatically, whereas the auto-diagnosis functionality offers the utmost safety to its users by continuously monitoring the product's performance and ensuring that it operates within safe parameters.
Omnis R:
This water heater is available in Charming Grey and Premium White colors and is available in three capacity options — 10, 15, and 25 liters. Omnis R comes with a Children Care Mode, which ensures the safety of children at home against accidental exposure to extreme hot water in the shower. The new Omnis R also features Titanium Plus Technology, giving it unmatched durability and tank protection from corrosion in hard water conditions. It is further enhanced by the Safety+ feature, which provides three layers of protection. Additionally, the inclusion of Flexomix enables a consistent supply of hot water for longer showers.
Altro 2023: Stylish instant geysers range
Altro i+:
This premium instant geyser is available in elegant gray side rings, offering two capacities to choose from — 3 and 6 liters. It offers an array of innovative features, such as an intuitive smart LED ring to let you know when the hot water is ready and a customised app with kitchen and bath modes for added convenience.
The 6-liter variant stands out with its Duronox technology, which provides protection against hard water and extends the product's life. On the other hand, the 3-liter model excels at faster heating with two heating power options of 3 kW and 4.5 kW.
Altro i:
The Altro i instant water heater offers two different capacities 1 and 3 liters, and two-color options, Grey and Blue (exclusive to the 3-liter variant). This recent release is has an Italian design that flaunts a swirl wave design with dual LED indicators to enhance the aesthetics. It is specifically designed with high pressure resistance, making it suitable for installation in high-rise buildings. Additionally, it offers faster heating capabilities (3 Kw and 4.5 Kw) and incorporates an anti-siphon system for added safety and prevention of backflow.
Altro i DN:
Racold has introduced the latest model in a grey color ring option, featuring a capacity of 3 liters. This advanced water heater is specially made to operate in hard water conditions with new Duronox technology for superior performance and durability. Equipped with key features like Safety Plus for 3 layers of safety, faster heating, anode for a longer life of the water heater, high pressure resistance for high-rise buildings, and dual LED indicators for enhanced visibility.