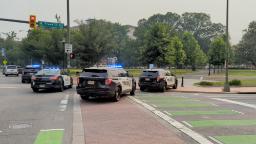 CNN
 — 

A gunman opened fire after a high school commencement ceremony in Richmond, Virginia, Tuesday, killing two – including an 18-year-old graduate – and injuring five, as terror spread among hundreds who had gathered to celebrate, police said.
A suspect – a 19-year-old man – is in custody, and police will seek second-degree murder charges against him, interim Police Chief Rick Edwards told reporters Tuesday night. Edwards said other charges could follow.
A 9-year-old girl was struck and injured by a car in the chaos among guests and graduates after the shooting in Monroe Park, across the street from the Altria Theater, where Huguenot High School held the ceremony, officials said.
"This should have been a safe space," Edwards said. "It's just incredibly tragic that someone decided to bring a gun to this incident and rain terror on our community."
The shooting marks one of at least 279 mass shootings in the United States so far this year, according to the Gun Violence Archive, which defines a mass shooting as one in which at least four people are shot, excluding the shooter.
The violence added Richmond to a long list of communities across the country to grapple with the terror of mass shootings in recent months, including those at a mall in Texas, a school in Tennessee, a bank in Kentucky and near a beach in South Florida.
It's unclear what motivated the attack. The chief said it was unknown Tuesday whether the suspect is a student. "We think the suspect knew at least one of the victims," the interim chief said, without elaborating.
Though Edwards said the 18-year-old who died had graduated Tuesday, he did not say from which school. The other person who died was a 36-year-old man who'd just attended the ceremony, said Edwards.
The other gunshot victims were a 14-year-old boy and four men ranging in age from 31 to 58. The 31-year-old had life-threatening injuries as of Tuesday night and the rest did not, said Edwards.
The 9-year-old girl who was hit by a car was being treated at a hospital with non-life-threatening injuries, he added.
The shooting happened just before 5:15 p.m., when three off-duty officers who were working security at the ceremony heard gunshots and reported them on their radios, and officers working traffic duty nearby responded, Edwards said.
"The initial officers indicated there was a barrage of gunfire, but it was over quickly," he added.
The suspect fled on foot and was found and detained nearby by security officers with nearby Virginia Commonwealth University, Edwards said. Monroe Park is part of VCU's Monroe Park campus.
Police initially announced they had detained two people but later said one of them was not involved in the shooting.
Police seized several guns following the shooting, the interim chief said.
Turmoil followed the shooting, Edwards said.
"I heard the call come over my radio, and you can hear the chaos and the screaming," he said.
"People were having panic attacks, falling on the ground screaming," Edwards added. "Some people fell. One child was hit by a car."
Naomi Wade was outside the Altria Theater selling flowers and teddy bears for the graduates, she told CNN affiliate WTVR. Images of smiling graduates in caps and gowns turned to scenes of panic as gunshots were heard, she said.
"Everyone literally started running for their lives, trampling each other. Trampled me. Trampled our whole entire stand. It was scary," Wade said.
Richmond Mayor Levar Stoney decried the shooting Tuesday and promised whoever was involved would be brought to justice.
"Is nothing sacred any longer?" Stoney said at a news conference.
"This should not be happening anywhere," Stoney said "A child should be able to go to their graduation and walk at their graduation and enjoy the accomplishment with their friends and families."
Huguenot High's ceremony was the second Richmond high school commencement to happen Tuesday at the theater, and a third graduation ceremony scheduled there that day was canceled after the shooting, school officials said. Richmond Public Schools is closing all its schools Wednesday out of an abundance of caution, the system announced on its website.
The rest of this week's high school graduations in the district also have been canceled.
"We've been preparing for an event like this. We've prepared for it with our partners and hoping that this day wouldn't come," Edwards said. "But it came to Richmond."
Source link