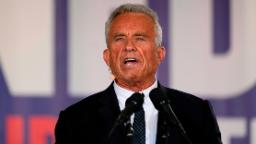 CNN
 — 

Environmental lawyer and presidential candidate Robert F. Kennedy Jr. announced on Monday his independent candidacy for president, officially ending his effort to defeat President Joe Biden in the Democratic primary in favor of a long-shot general election bid.
"I'm here to declare myself an independent candidate for president of the United States," Kennedy said in remarks in Philadelphia.
Kennedy's announcement comes after several weeks of speculation about his future in the 2024 field. CNN previously reported Kennedy met with the chair of the Libertarian Party earlier this year to discuss their common beliefs. And last week, a super PAC supporting Kennedy's presidential campaign released the results of a poll they conducted testing Kennedy's strength in a hypothetical three-way race between Biden and former President Donald Trump.
The campaign will host a series of events in Texas, Florida and Georgia later this month, a campaign official told CNN, pledging to travel "everywhere" in the lead-up to next year's general election. The official said the campaign is confident they'll gain ballot access in every state ahead of November 2024.
Independent and third-party candidates have struggled in the past to garner substantial support in presidential elections. In 1992, Texas businessman Ross Perot mounted one of the most successful independent presidential candidacies in recent history, which ended with him receiving 8% of the vote in the general election that was ultimately won by Bill Clinton.
Kennedy's campaign as an independent could further complicate a general election race that's already expected to be closely contested. A Reuters/Ipsos poll of a hypothetical three-way race between Biden, Trump and Kennedy conducted last week among likely voters found 14% of voters supported Kennedy, with 40% supporting Trump and 38% supporting Biden. With over a year until the general election, it's unclear whether the Kennedy campaign can translate that level of support into votes in November 2024.
"Voters should not be deceived by anyone who pretends to have conservative values. The fact is that RFK has a disturbing background steeped in radical, liberal positions," Trump campaign spokesperson Steven Cheung said in a statement that criticized Kennedy over his positions on China, guns, the environment and abortion. "… A RFK candidacy is nothing more than a vanity project for a liberal Kennedy looking to cash in on his family's name."
Trump's allies and advisers have been building opposition research against Kennedy, intending to go on the offensive and paint Kennedy as a "liberal parading in conservative's clothing," one adviser told CNN, pointing to his past record as an environmental activist.
Kennedy first launched his campaign to defeat Biden in the Democratic primary in April and frequently visited early primary states like New Hampshire and South Carolina. But his efforts did little to sway Democratic primary voters, with just 9% of likely Democratic primary voters in New Hampshire expressing support for Kennedy in a CNN/University of New Hampshire poll released in September.
The Republican National Committee issued a statement just prior to Kennedy's announcement, characterizing him as "just another radical, far-left Democrat."
Kennedy is the son of former US Attorney General Robert F. Kennedy and nephew of former President John F. Kennedy. Some of his siblings issued a joint statement on Monday, calling his decision to run against Biden in a general election "dangerous to our country."
"Bobby might share the same name as our father, but he does not share the same values, vision or judgment. Today's announcement is deeply saddening for us. We denounce his candidacy and believe it to be perilous for our country, " Rory Kennedy, Kerry Kennedy, Joseph P Kennedy II and Kathleen Kennedy Townsend said in a statement.
Kennedy has never held public office but has inspired a small contingent of supporters drawn to his advocacy against public health mandates and the influence of money on decisions made by government and private corporations. Kennedy founded Children's Health Defense, an organization that regularly spreads anti-vaccine misinformation, and has promoted anti-vaccine conspiracy theories at campaign events.
Attendees at Monday's event spanned the ideological spectrum, with conservatives, liberals and independents all gathering in Philadelphia for the announcement.
Walter Rodriguez, a teacher from New Jersey who identifies as an independent, said he plans to support Kennedy if he's on the ballot in his home state. Otherwise, he said, he doesn't plan to vote at all.
"I'm excited about the energy they bring to the table as a candidate, and I think some of the things that he's talking about are things that I identify with," Rodriguez said. "Not relying so much on central control of everything, pharmaceuticals, politics. So the fact that he's declaring himself as independent today, that is the right way to go."
Karl Hagstrom came to Philadelphia from Westchester County, New York. He said he supported Trump in 2016 and 2020, but said he plans to support Kennedy in 2024. He said he's drawn to Kennedy because he feels the political outsider can bring unity to the country, unlike Trump, who he said has been too divisive.
"Just the constant insanity, the tweeting, the negativity, the just out-of-left field reactions to things. It's not sustainable, it's not something that can bring people together," Hagstrom said.
Sarah Shulman drove to the event with a group of supporters from the Boston area. A practicing pediatrician, Shulman attended Kennedy's Democratic campaign launch event in Boston in April and said Kennedy's anti-corruption message and his position on vaccines inspired her to support him. She said she voted for Biden in 2020 and has never considered supporting a Republican but has felt disconnected from Biden's message since he took office.
"He's speaking our language," Shulman said of Kennedy. "A Democrat, somebody in the liberal mind that's compassionate, caring, who also is making sense."
This story has been updated with additional reporting.
Source link