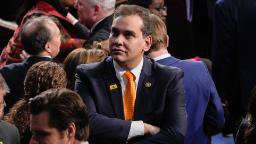 CNN
 — 

Republican Sen. Mitt Romney of Utah told GOP Rep. George Santos of New York: "You don't belong here," according to a member who witnessed the tense exchange in the House of Representatives chamber Tuesday night.
Romney, the 2012 GOP presidential nominee, made the remarks as he walked into the chamber for President Joe Biden's State of the Union address.
After the speech, Romney told CNN he criticized Santos for standing in the front aisle "trying to shake hands" with the president and senators "given the fact that he's under ethics investigation."
"He should be sitting in the back row and staying quiet instead of parading in front of the president and people coming into the room," he said, noting that Santos may have responded to his remark but he "didn't hear."
Santos posted on Twitter after the speech: "Hey @MittRomney just a reminder that you will NEVER be PRESIDENT!"
Santos faces multiple investigations over his finances and repeated lies about his resume and biography. In November, he flipped a Democratic seat in a redrawn district, helping Republicans seize a narrow majority in the House.
Santos, 34, has been caught lying about the schools he attended, his employment history and family background. Complaints with the Federal Election Commission have questioned whether he is a true source of more than $700,000 in loans he said he made to his 2022 campaign.
Federal investigators are examining his finances, including allegations that Santos took $3,000 from a veteran's dying dog's GoFundMe campaign.
The New York freshman is expected to face an investigation from the House Ethics Committee. House Speaker Kevin McCarthy has so far not called on Santos to resign, even as some of his fellow New York Republicans have called on him to step down. Santos has voluntarily stepped down from two House committees even though McCarthy and his allies initially awarded him the spots.
Romney said he's disappointed McCarthy hasn't called on Santos to resign.
"He says he, you know, that he embellished his record. Look, embellishing is saying you got an A when you got an A-," the senator said. "Lying is saying you graduated from a college that you didn't even attend and he shouldn't be in Congress."
"And they're gonna go through the process and hopefully get him out. .. But he shouldn't be there and if he had any shame at all, he wouldn't be there."
On Tuesday, Santos told CNN he is "not concerned" about the House ethics probe or about New York constituents calling on him to resign.
This story has been updated from an interview with Romney.