The global smartphone market has been plagued by many concerns and shipments have continued to fall. According to the latest report by Canalys, 2022 was an extremely challenging year for all brands as shipments declined by 11% compared to 2021. However, in Q4 2022, Apple emerged as the top brand in the world edging out Samsung. Samsung, on the other hand, was the biggest brand for the year 2022, according to Canalys.
These are the top 5 smartphone players in the world
As per the Canalys report, Apple garnered 25% quarterly market share — its highest ever — and became the top brand in Q4. Apple faced a lot of issues in the quarter as there were Covid-19 lockdowns in Zhengzhou and other unrest, which hampered its manufacturing. Canalys also said that Apple achieved the numbers despite facing "shrinking demand".
Samsung had a 20% market share in Q4 and took the second spot. However, for the full year, it was the biggest smartphone brand with the most shipments. Xiaomi's market share fell to 11% in Q4 but it managed to retain the third spot. The Chinese smartphone maker has faced some challenges in India. Oppo and Vivo rounded out the top five, taking 10% and 8% market shares respectively.
For the year 2022, Samsung had a 22% market share whereas Apple had 19%. Xiaomi, Oppo and Vivo completed the top 5 list with 13%, 9% and 9% market share respectively.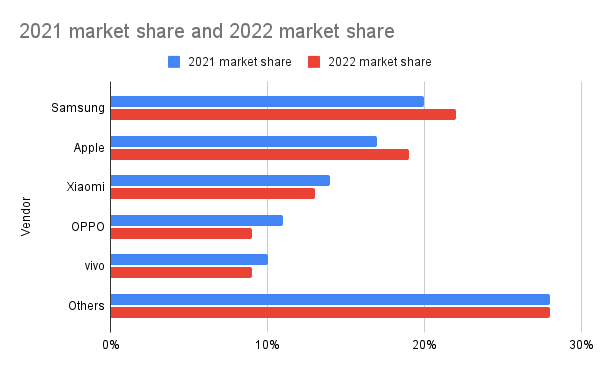 "Smartphone vendors have struggled in a difficult macroeconomic environment throughout 2022. Q4 marks the worst annual and Q4 performance in a decade," said Canalys Research Analyst Runar Bjørhovde. According to Bjørhovde, while low-to-mid-range demand fell fast in previous quarters, high-end demand began to show weakness in Q4. "The market's performance in Q4 2022 stands in stark contrast to Q4 2021, which saw surging demand and easing supply issues," added the Canalys analyst.