CNN
 — 

Fierce fighting across Sudan entered a second day as months of tensions between a paramilitary group and the country's army erupted into violence.
Eyewitnesses in the capital Khartoum told CNN that fighting intensified after Sunday morning prayers, with loud noises and explosions heard throughout the night. There have also been reports of battles hundreds of miles away in the eastern city of Port Sudan
At least 56 people have been killed and nearly 600 injured in the clashes, according to the Central Committee of Sudan Doctors.
Sudan's paramilitary chief Mohamed Hamdan Dagalo claims to have seized most of Khartoum's official sites after clashes erupted between his armed group and the country's military on Saturday.
"The Rapid Support Forces control more than 90 percent of strategic sites in Khartoum," Dagalo said in an interview with Sky News Arabia, referring to his group.
The country's military leader, General Abdel Fattah al-Burhan, disputed Dagalo's claims and said the military has maintained control over government sites.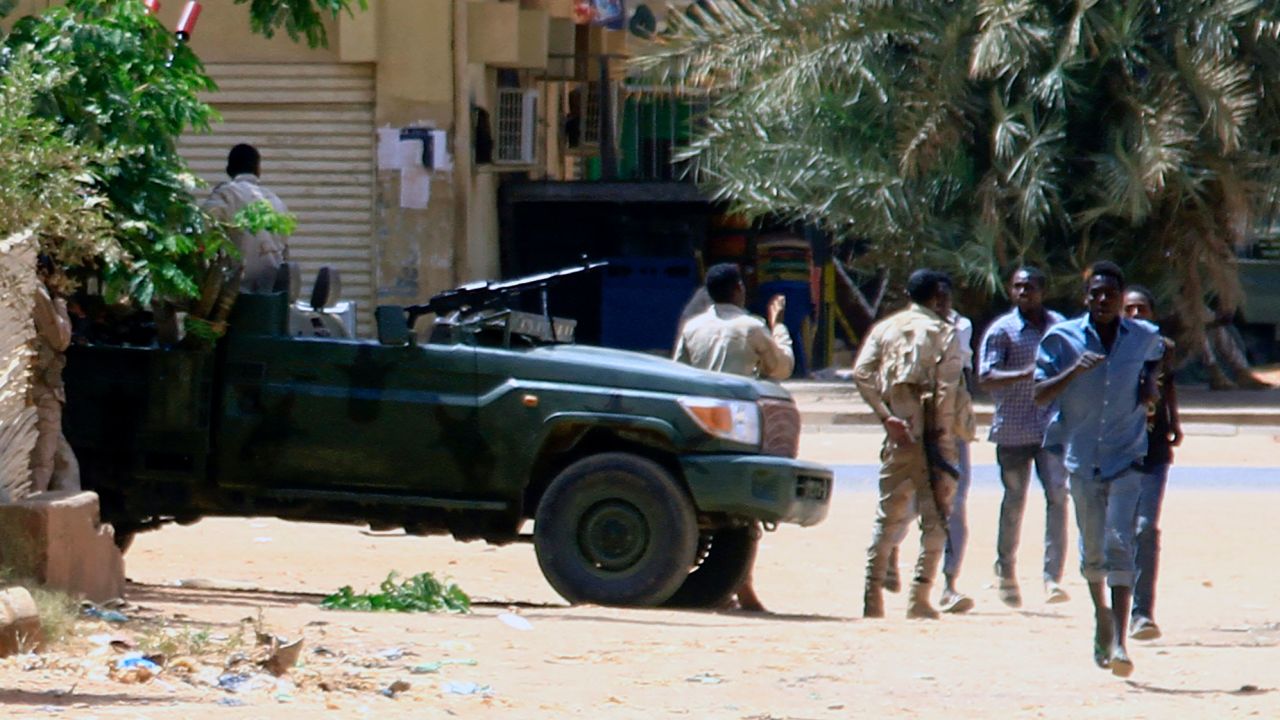 In an interview with Al Jazeera, Dagalo – also known as Hemedti – described Burhan as a "criminal," accusing him of instigating fighting on Saturday.
Dagalo's rise to power began when he was a leader of Sudan's notorious Janjaweed forces, implicated in human rights violations in the Darfur conflict of the early 2000s. His group also killed at least 118 people in pro-democracy protests in June 2019 after troops opened fire at a peaceful sit-in.
He and Burhan were pivotal in the 2019 overthrow of President Omar al-Bashir but have since become locked in a power struggle, with tensions over the RSF's integration into the army.
Armed clashes were reported throughout Khartoum on Saturday, including the presidential palace and the capital's army headquarters.
Among those killed was an Indian national working in Sudan, who died after being hit by a stray bullet on Saturday. India and other countries have urged its citizens to take shelter.
Sudan's army accused the Rapid Support Forces of "traitorous plotting" against the country, and has demanded its dissolution.
There will be "no negotiation or dialogue before dissolving Hemedti's rebel militia," the Sudanese army said in a statement. It also issued a wanted poster for Dagalo, calling him a "fugitive criminal."
The General Command of the Sudanese Army issued a statement calling on civilians to stay indoors as warplanes will be conducting sweeps looking for Rapid Support Forces.
"The Sudanese Air Force will conduct a complete sweep of the rebel Rapid Support militia's presence. The Air Force calling on all citizens to stay inside their houses and not to go out," the statement said.
Khartoum's State Security Committee declared a public holiday in the capital "in order to preserve lives of citizens and their property."
There have been widespread international calls for calm, with the US and UN both calling for an end to the fighting.
The African Union urged "the political and military parties to find a fair political solution to the crisis."
The military has been in charge of Sudan since a coup in 2021, with Burhan and Dagalo at the helm. The 2021 coup ended a power-sharing arrangement, following the 2019 ouster of long-term former President Omar al-Bashir.
A CNN investigation also uncovered another link between the two men: their involvement in Russia's exploitation of Sudan's gold resources to fund its Ukraine war, with Dagalo's forces also being key recipients of Russian training and weaponry.
But recent talks have led to cracks in the alliance between the two military leaders. The negotiations have sought to integrate the Rapid Support Forces into the country's military, as part of the effort to transition to civilian rule.
Sources in Sudan's civilian movement and Sudanese military sources told CNN the main points of contention included the timeline for the merger of the forces, the status given to RSF officers in the future hierarchy, and whether RSF forces should be under the command of the army chief, rather than Sudan's commander-in-chief, who is currently Burhan.
The hostilities, sources told CNN, are the culmination of what both parties view as an existential fight for dominance, one with Burhan, they said, seeking support from Sudan's former Islamist rulers, resurrecting the specter of days many Sudanese fought to leave behind.
Source link