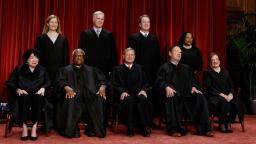 CNN
 — 

Last fall, just when the Supreme Court was gearing up to start a new term, Chief Justice John Roberts told an audience in Colorado that he was looking forward to a return to normal where the public would be able to attend oral arguments in person after a Covid-induced break and metal barricades, erected to ward off protesters in the wake of the reversal of Roe v. Wade, would finally come down.
"I think the more normal, the better," Roberts quipped.
The question after this term: What is normal?
A confident, conservative majority is hitting its stride, overturning precedent at times and shifting the law to the right in many areas that govern how Americans live their lives. As is always the case, the term featured unusual alliances at times and a handful of unanimous opinions. There were even unexpected liberal wins in the area of voting rights.
But as Roberts steered his court through political attacks, Justices Samuel Alito and Clarence Thomas fought allegations of ethics improprieties, the liberal minority sought to pick off conservative votes, and the junior most justice found her voice, one constant remained: The court's arc continued to bend right, and it could remain in that position for decades.
Here are some key moments of the term:
Accepting an award last month in Washington, DC, Roberts appeared pale and weary – delivering a speech that was less lively than usual and confessing that the hardest decision he'd made in his tenure was allowing security officials to erect barricades around the court to ward off protesters after the court rolled back Roe v. Wade.
What the audience did not know that night, is that the chief's fatigue was likely because he was toiling away at four opinions he was writing that would impact how Americans live their lives.
Two cases concerned voting rights, and Roberts knew the ultimate outcome would delight liberals. The other two were major conservative victories, as Roberts would gut affirmative action programs in higher education and strike down President Joe Biden's student debt forgiveness program.
Roberts – who cares deeply about the institution of the court – is committed to destroying any kind of narrative suggesting that the court splits along ideological lines in every case that grabs the public's attention.
It's been his mantra since his confirmation hearing. For Roberts, judges are like umpires, calling them how they see them. Or, that's how he sees it.
But others see a court that has taken a hard right turn since former President Donald Trump's nominees joined the bench in the cases this term, as well as major cases having to do with the environment, abortion rights and the Second Amendment last term.
In his opinion blocking the student debt program, Roberts insisted he is concerned about criticisms of the court.
He said that "reasonable minds" including the three liberals, on the bench could disagree with his opinion, but he cautioned that "plainly heartfelt disagreement" should not be mistaken as "disparagement."
"Any such misperception would be harmful to this institution and our country," he added, perhaps hoping that the court would never have to erect barricades again.
Three years ago, Justice Neil Gorsuch delivered an opinion that would change how millions of LGBTQ individuals would live and work in the United States.
Title VII of the Civil Rights Act, Gorsuch wrote, which bars discrimination "because of sex," also covers claims based on sexual orientation and gender identity, extending protections to millions of workers nationwide.
Friday, Gorsuch, who had been a hero to LGBTQ workers for the Bostock decision, became the villain.
At issue in 303 Creative v. Elenis is a graphic designer who wanted to expand her business to create custom wedding sites, but did not want to create such websites to celebrate same-sex weddings, citing her religious views as a Christian.
Lorie Smith, the designer, saw the case through a lens of free speech. She said the government was forcing her to create a custom product with a message that violates her religious views.
On Friday, the last day of the term, the court agreed. Gorsuch, this time ruling against the LGBTQ community, wrote the 6-3 opinion rooted in the First Amendment.
"In this case, Colorado seeks to force an individual to speak in ways that align with its views but defy her conscience about a matter of major significance," he wrote. "But, as this Court has long held, the opportunity to think for ourselves and to express those thoughts freely is among our most cherished liberties and part of what keeps our Republic strong."
To the surprise of court watchers and the delight of his supporters, Justice Samuel Alito shed his black robes, ducked under the ropes and entered the public fray this term.
In appearances, news interviews, and even under his own byline, Alito, 73, stepped forward to defend himself and his view of the court and judiciary.
Last May, after Politico published a draft of his opinion Dobbs v. Jackson, reversing Roe v. Wade, he was faced with death threats. In an interview with The Wall Street Journal, Alito said he felt like the justices in the majority had become "targets of assassination." Security concerns were so high that he was driven around "basically in a tank."
A source close to the court confirmed that not only was Alito rattled by death threats, but his clerks were "terrified." A man was arrested near Justice Brett Kavanaugh's house is alleged to have been seeking to assassinate the justice.
In a July speech in Rome, Alito made his first public comments about the decision, finally released in June, mocking foreign leaders who criticized it.
In October, he was back in the news, telling The Wall Street Journal in an interview that criticism of the court had gone too far.
"It goes without saying that everyone is free to express disagreement with our decisions and to criticize our reasoning as they see fit," he said. "But saying or implying that the court is becoming an illegitimate institution or questioning our integrity crosses an important line," he said.
But Alito's most eye-popping move, was his decision earlier this month to use The Wall Street Journal's editorial pages to respond to questions from ProPublica, which was writing a story on trips he took with conservative donors that hadn't been disclosed, pre-butting the story.
Alito charged that the outlet was misleading its readers by reporting that he should have disclosed his ride on a private jet owned by Paul Singer, a GOP millionaire. He also pushed back on the allegation that he should have recused in matters which an entity connected with Singer was a party.
"Neither charge is valid," Alito wrote, and explained his thinking.
ProPublica published its own behind the scenes account of what transpired – assuring its readers that had Alito responded to its requests for comments, "we'd have asked some more questions."
Now Alito has set interesting new precedent that might chill journalists when they seek comment for a story from a justice.
"Our reporters are likely to be a bit more skeptical when a spokesperson asks about the timing of a story's publication," ProPublica reported.
The push for ethics reform at the Supreme Court hummed along for years in the corridors of Congress as critics believed the justices needed to provide greater transparency in their public disclosures.
This term, that hum became a roar.
ProPublica, a non-profit investigative news organization, revealed that Justice Clarence Thomas had received lavish trips on private jets and a fancy yacht. Thomas had not disclosed the gifts from a GOP billionaire, believing that there was no such requirement under gift rules in place at the time.
Senate Judiciary Chairman Dick Durbin, an Illinois Democrat, pounced. "Make no mistake: Supreme Court ethics reform must happen whether the Court participates in the process or not," he warned.
In April, the court released a new statement signed by all nine justices meant to provide "clarity" to the public about the high court's ethics practices. But the attempt fell well short of a formal code of ethics and served only to further infuriate the court's critics.
The next month, Roberts tried again. In a speech, he said he wanted to "assure" the public that the court was committed to adhering to the "highest standards of conduct."
Soon after, Elena Kagan, for one, made a change. On more than one occasion, she noted, very briefly, the reasons for her recusal in certain cases in the court's regular orders list. No other justice followed suit.
Justice Ketanji Brown Jackson joined the court last summer and came out swinging during her first term on the bench – speaking more words at oral arguments than all other current justices in their first terms, according to Dr. Adam Feldman, a political science professor and creator of the Empirical SCOTUS blog. (Justices, of course, can speak as much or as little as they please.)
"She also spoke most in cases with strong ideological dimensions," Feldman said, ticking off a case involving Section 2 of the Voting Rights Act and arguments examining the University of North Carolina's affirmative action admissions policies. In addition, she authored four dissents this term that were lengthier than the majority opinions in those cases. But it was what she said in a unions case – striking out her own territory – that stood out.
In June, the court sided with a cement mixing company that sought to bypass federal labor law and sue a union in state court for the destruction of property caused by striking workers. Jackson was the only dissenter.
The majority said the dispute could continue in state court for now, a move that some believe could chill workers' decisions to strike in the future for fear that unions would now have to face potentially costly litigation in state court for misconduct during federally protected strikes.
The case had been closely watched by supporters of unions who have witnessed the conservative majority in recent years chip away their power.
Some believe that liberals Sonia Sotomayor and Kagan signed on to Barrett's opinion for strategic reasons. After all, the decision was narrow and the court did not change the law for future cases.
"It makes you think they must have joined in order to give Justice Barrett a majority for a limited holding so that Justices Alito, or Gorsuch or Thomas couldn't get a majority for their opinions which would have gone much farther in upending the law," Jenny Hunter, a labor lawyer and union consultant said on the Strict Scrutiny podcast.
But that did not stop Jackson. Departing from her liberal colleagues, Jackson used the case to offer a full-throated defense of the right to strike, suggesting that the majority opinion "risks the right to strike."
"(W)orkers are not indentured servants, bound to continue laboring until any planned work stoppage would be as painless as possible for their master," Jackson wrote.
Instead, she said, "they are employees whose collective decision to withhold their labor is protected by the National Labor Relations Act even if economic injury results."
This week, Jackson stood firmly with her liberal colleagues dissenting from the majority's decision to gut affirmative action programs in admissions. But again, she chose to add some thoughts in a separate opinion.
It was a bold dissent from the court's first African American woman during her freshman term.
"With let-them-eat-cake obliviousness, today the majority pulls the ripcord and announces, 'colorblindness for all' by legal fiat," she wrote. "But deeming race irrelevant in law does not make it so in life."
On Tuesday, when Roberts announced the court's opinion in Moore v. Harper, liberals and even some conservatives exhaled, relieved that the court was rejecting a controversial Trump-backed election law theory.
The case had captured the nation's attention because Republican lawmakers in North Carolina wanted the court to hold for the first time that state courts and other state entities had no role in reviewing election rules established by state legislatures when it comes to federal elections.
In a 6-3 opinion, penned by Roberts, the court declined to do so.
Even former President Barack Obama celebrated, calling the ruling a "resounding rejection of the far-right theory that has been peddled by election deniers."
But then the spin began. Election expert Rick Hasen – no fan of the so-called Independent State Legislature Doctrine – moved to lay out what the decision would mean. He said that while some on the left were declaring the theory dead, others on the right emphasized a portion of Roberts opinion that said that state courts didn't have "free rein"– suggesting a role for federal courts to intervene at times.
Federal courts had always been allowed to get involved, but now there was explicit precedent giving the high court's imprimatur.
Hasen opined that while the Moore decision "killed off" the most extreme version of the independent state legislature theory, "it still gives the Supreme Court and federal courts a license to do mischief (under certain standards) in the most politically sensitive cases including post-election challenges to presidential elections."
He said the court had rejected a "really bonkers theory" – but that the decision could still be impactful.
Long before taking the bench, Jackson gave an interview to journalists Kevin Merida and Michael Fletcher for their 2007 book on Justice Clarence Thomas.
According to the journalists, she recalled sitting across from Thomas at lunch once with a quizzical expression on her face.
"I just sat there the whole time thinking: I don't understand you. You sound like my parents. You sound like the people I grew up with," Jackson was quoted as saying. "But the lessons he tended to draw from the experiences of the segregated South seemed to be different than those of everybody I know."
On Thursday, Thomas had a response for Jackson.
Thomas, who for years chose to remain silent during oral arguments, took the dramatic step of reading his concurrence from the bench to a hushed courtroom.
Thomas, writing perhaps the most personal opinion of his career, addressed Jackson directly.
"Justice Jackson has a different view," he said at one point. "As she sees things, we are all inexorably trapped in a fundamentally racist society, with the original sin of slavery and the historical subjugation of black Americans still determining our lives today."
"Even in the segregated South where I grew up, individuals were not the sum of their skin color," he added.
"On her view, almost all of life's outcomes may be unhesitatingly ascribed to race he said, charging that her "race infused world view falls flat at each step."
Jackson responded to what she called Thomas' "prolonged attack" in a footnote. She said that he "responds to a dissent I did not write in order to assail an admissions program that is not the one UNC crafted."
She said that his opinion demonstrates "an obsession" with race consciousness that "far outstrips" the University of North Carolina's "holistic understanding that race can be a factor that affects applicants' unique life experiences."
Thomas, she said, "ignites too many more straw men to list, or fully extinguish here."
Source link